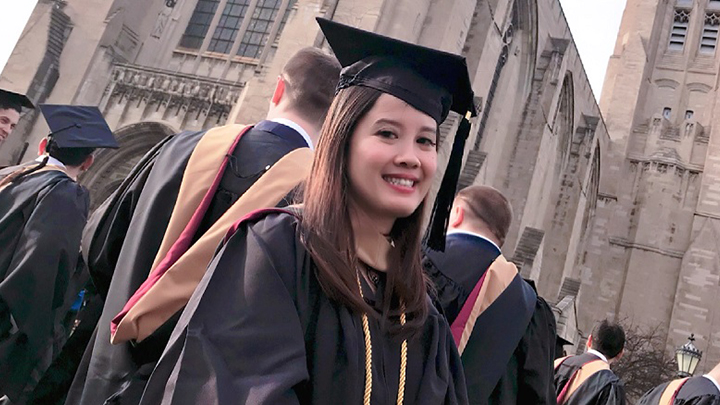 As I threw my mortar board into the air, I not only celebrated graduating with an Executive MBA (EMBA) from the University of Chicago Booth School of Business, but also from two of the hardest years of my life.
Yes, I want to celebrate the two years of struggle, jet-lag, tears and guilt while I juggled multiple roles as a private banker, mother and student.
My reward was that for two crazed but fantastic years, I did – in all that cliché – have it all: a terrific job, a beautiful family with two thriving kids, and a Master's Degree (Honours) from a renowned graduate school.
My struggle is not a unique one. But I hope that by sharing, I may inspire other mums who may be on the fence – can you be a great mum, a dedicated student and work full-time all at once? Yes, you can.
The secret to success is something mums are already good at – sacrifice. The other secret is to tell others about your goal – you will be surprised how many people around you are willing to help you succeed.
I have spent my career as a private banker. However, the evolving global environment and banking industry made me realise that there was a need to broaden my horizons and gain new proficiencies to meet the changing and increasing complex wealth management needs of my clients.
More importantly, I wanted to invest in myself and fulfil a lifelong dream, one that took a backseat as I focused on work and being a mum to my six-year-old daughter and four-year-old son.
In 2016, I decided to take the plunge. The thought of asking the Bank's CEO and my managers for approval to pursue a Master's Degree while still working full-time weighed heavily on my mind.
But the saying is true: if you never ask, you never know. This is my goal, I told them, please help me aim high.
My bosses did not even bat an eyelid. They approved my attending the programme while still working full-time, provided me with powerful reference letters and, together with my colleagues, gave me the support I needed. Many a times, a colleague would step in for a client meeting when my flight back from attending a class overseas was delayed.
For sure, I was nervous about whether I would have the time to get all my work done and be able to stay motivated. Exhaustion was a constant partner and every day became a battle against the clock. I was overwhelmed with the sapping desire to go to bed at 9pm.
Did doing an EMBA take a toll on my family? Yes.
There were many times I could not participate in family events or spend time with my kids. To be honest, there were days I wanted to quit; especially those days when I thought of what a horrible mum I was for spending less time with my family, shuffling my kids to the care of my family members or siblings.
There were even days when I questioned what this additional piece of paper would really do for me. The guilt of not being the "perfect" mother, daughter, colleague and everything else in between sometimes brought me to my knees.
Looking back, somehow, I persevered. My motivation for the two years was my family and my kids, the very people I felt the most guilt towards. I wanted my family to be proud of me and for my children to see that I did not give up and that they too are capable of anything. My colleagues also played a part in my staying the course. They willingly put in extra hours to cover my work duties when needed; I could not let them down.
I was asked recently if, given a choice, I would make the same decision and embark on an EMBA while being a full-time working mum? The answer is a resounding yes. It has benefited not only me but it had a ripple effect as well.
On the work front, the EMBA has sharpened my negotiation and decision-making skills, and my improved proficiency in financial and management knowledge enable me to have more fruitful discussions with clients that help them make informed decisions.
My daughter, who did her homework next to me while I was doing my assignments, has told me that she realises the importance of studying and working hard. She tells me that she will also strive as high like Mummy.
This alone made my last two years of struggle even more worthwhile.
Disclaimer applicable to recommendation
This document, prepared by Bank of Singapore Limited (Co Reg. No.: 197700866R) (the "Bank"), is for information purposes only and is not, by itself, intended for anyone other than the recipient. It is not an offer or a solicitation to deal in any of the investment products referred to herein or to enter into any legal relations, nor an advice or by itself a recommendation with respect to such investment products. It does not have regard to the specific investment objectives, investment experience, financial situation and the particular needs of any recipient or customer. Customers should exercise caution in relation to the investment. Customers should independently evaluate each investment product and consider the suitability of such investment product, taking into account customer's own specific investment objectives, investment experience, financial situation and/or particular needs. If a customer is in doubt about the contents of this document and/or the suitability of any investment products mentioned in this document for the customer, the customer should to obtain independent financial, legal and/or tax advice from its professional advisers as necessary, before dealing in any investment products mentioned in this document.


This document and other related documents have not been reviewed by, registered or lodged as a prospectus, information memorandum or profile statement with the Monetary Authority of Singapore nor any regulator in Hong Kong or elsewhere.


This document may not be published, circulated, reproduced or distributed in whole or in part to any other person without the Bank's prior written consent. This document is not intended for distribution to, publication or use by any person in any jurisdiction outside Singapore, Hong Kong, or such other jurisdiction as the Bank may determine in its absolute discretion, where such distribution, publication or use would be contrary to applicable law or would subject the Bank and its related corporations, connected persons, associated persons and/or affiliates (collectively, "Affiliates") to any registration, licensing or other requirements within such jurisdiction.


Investments in financial instruments or other products carry significant risk, including the possible loss of the principal amount invested. Financial instruments or other products denominated in a foreign currency are subject to exchange rate fluctuations, which may have an adverse effect on the price or value of an investment in such products. No liability is accepted by the Bank for any loss (whether direct, indirect or consequential) that may arise from any use of the information contained in or derived from this document. Past performance is not a guarantee or indication of future results. Any prices provided in this document (other than those that are identified as being historical) are indicative only and do not represent firm quotes as to either price or size. You should contact your local representative directly if you are interested in buying or selling any financial instrument or other product or pursuing any trading strategy that may be mentioned in this document.


While reasonable efforts have been made to ensure that the contents of this document have been obtained or derived from sources believed by the Bank and its Affiliates to be reliable, neither the Bank nor its Affiliates has independently verified the accuracy of such source(s). The Bank and its Affiliates and their respective officers, employees, agents and representatives do not make any express or implied representations, warranties or guarantees as to the accuracy, timeliness or completeness of the information, data or prevailing state of affairs that are mentioned in this document and do not accept any liability for any loss or damage whatsoever, direct or indirect, arising from or in connection with the use of the contents of this document.


The Bank and its Affiliates may have issued other reports, analyses, or other documents expressing views different from the contents hereof and all views expressed in all reports, analyses and documents are subject to change without notice. The Bank and its Affiliates reserve the right to act upon or use the contents hereof at any time, including before its publication herein.


The author of this document may have discussed the information contained therein with others within or outside the Bank and the author and/or such other Bank personnel may have already acted on the basis of this information (including communicating the information contained herein to other customers of the Bank). The Bank, its personnel (including those with whom the author may have consulted in the preparation of this communication), and other customers of the Bank may be long or short the financial instruments or other products referred to in this document, may have acquired such positions at prices and market conditions that are no longer available, and may have interests different from or adverse to your interests.


Bank of Singapore Limited is a licensed bank regulated by the Monetary Authority of Singapore in Singapore, an Authorized Institution as defined in the Banking Ordinance of Hong Kong (Cap 155), regulated by the Hong Kong Monetary Authority in Hong Kong and a Registered Institution as defined in the Securities and Futures Ordinance of Hong Kong (Cap.571) regulated by the Securities and Futures Commission in Hong Kong. Bank of Singapore Limited, its employees and discretionary accounts managed by its Singapore Office may have long or short positions or may be otherwise interested in any of the investment products (including derivatives thereof) referred to in this document and may from time to time dispose of any such investment products. Bank of Singapore Limited forms part of the OCBC Group (being for this purpose Oversea-Chinese Banking Corporation Limited and its subsidiaries, related and affiliated companies). OCBC Group, their respective directors and/or employees (collectively "Related Persons") may or might have in the future interests in the investment products or the issuers mentioned herein. Such interests include effecting transactions in such investment products, and providing broking, investment banking and other financial services to such issuers. OCBC Group and its Related Persons may also be related to, and receive fees from, providers of such investment products.


Bank of Singapore Limited adheres to a group policy (as revised and updated from time to time) that provides how entities in the OCBC Group manage or eliminate any actual or potential conflicts of interest which may impact the impartiality of research reports issued by any research analyst in the OCBC Group.


Past performance is not always indicative of likely or future performance. The value of any investment or income may go down as well as up. All investments involve an element of risk, including capital loss. Customers who are interested to invest in such investment products should read the risk disclosures and governing terms and conditions that are set out in the relevant offering documents.


These materials are prepared solely for distribution into jurisdictions where such distribution is permitted by law. These materials are for the internal use of the intended recipients only and may contain information proprietary to the Bank which may not be reproduced or redistributed in whole or in part without the Bank's prior consent.


Dual currency investments, structured deposits and other investment products are not insured by the Singapore Deposit Insurance Corporation.