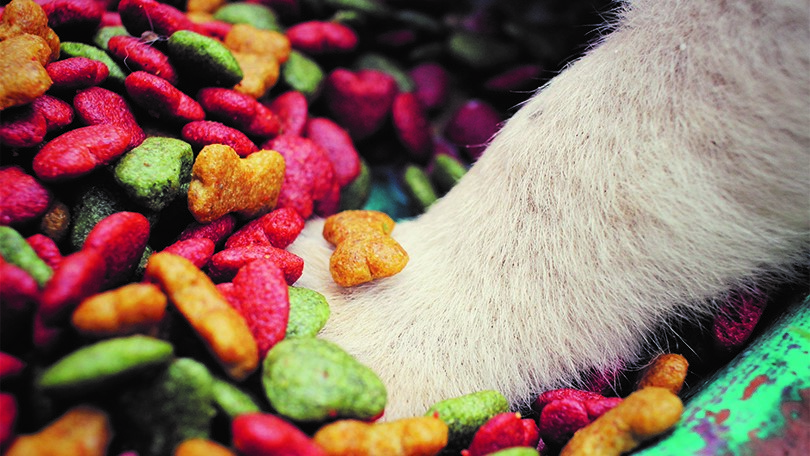 Pet chow companies that make dog and cat food from insects such as black soldier fly larvae are looking to gain a foothold in Asia.
At least two European start-ups are venturing into Asia, and a Singapore-headquartered firm that operates in Malaysia is looking to launch Southeast Asia's first insect-based dog food in the fourth quarter of this year.
Insect protein incurs a much lower carbon footprint than beef, chicken or salmon as the six-legged creatures largely feed on low-grade food waste, grow quickly and do not need much space to be farmed. Animal agriculture is a significant generator of greenhouse gases and source of deforestation. While demand for meat has decreased amid the Covid-19 pandemic due to supply chain disruptions and reduced household incomes, it is expected to grow in the longer term in tandem with the global population, posing a threat to biodiversity and natural ecosystems.
Insects are a rich source of protein, and 10 times less food and up to 15 times less water are needed to produce one kilogram of insects compared to beef, said European company Entoma Petfood's co-founder Rachel Cantet.
Entoma, which launched in early 2018 and offers cat and dog food, has a new distributor in South Korea and is looking to find resellers in Asia, she said.
United Kingdom-based Yora, which launched its dog food last January, has made over £1 million (US$1.28 million) in sales so far this year, and is looking to launch cat food next year, said its sales and innovation director Will Bisset. Yora is currently in 16 countries and recently reached distribution agreements for Taiwan, South Korea and Japan.
It will launch in Taiwan and South Korea in August, and small-breed dog food is now available in Japan, said Bisset, who believes Asian markets will be as receptive to insects as Europe has been.
Better than prime steak?
The chief concern of pet owners is whether insect-based food is palatable and nutritious, both companies said. "They worry that it isn't as nutritious, but actually it is more digestible than most traditional meat sources and doesn't have any antibiotics or growth hormones that (traditional meat) can often contain," Bisset said.
The British Veterinary Association told broadcaster BBC last year that some insect-based foods may be better for pets than prime steak. Association president Simon Doherty later explained that even with insect protein alternatives, a wholesale shift away from livestock-based protein is highly unlikely in the near future.
"When compounded into a complete food product, insect protein offers a more sensible alternative to owners who want to offer a 'livestock-free' diet to their pets rather than homemade vegetarian or vegan diets which often result in poor pet health and welfare – insect-based products are palatable, nutritious and bioavailable," Doherty said.
Pet owners also worry about the cleanliness of the grubs, Bisset said. But the insects are farmed in a modern facility that is "cleaner than any farm I have ever been to and they just get fed fruit and vegetable by-product which is checked for pesticides and other chemicals before they eat it". Yora's black soldier fly larvae are supplied by Protix, a Dutch high-tech farming company.
On whether pet dogs like the taste of Yora's products, Bisset said the company has had a "very low return rate".
Insect products have always had a "yuck effect" in the food industry, especially in Europe, said Entoma's Cantet. "But since it is for pets and with health and ecological benefits, pet owners forget about this 'yuck effect'," she said. This is especially the case for eco-conscious pet owners.
The mealworms that Entoma uses are produced in Austria, while its black soldier flies are produced in the Netherlands. Its production plants are located in France and the Netherlands.
First in Southeast Asia
Singapore-headquartered Protenga, meanwhile, is likely Southeast Asia's first insect-based pet food producer.
It soft-launched its pet food brand, YumGrubs, late last year and expects to do a full launch before the Christmas season this year, making the dog food available at places like pet product retailers, said Protenga's founder and chief executive Leo Wein. It is developing cat food but no launch date has been set.
The start-up recently raised US$1.6 million in seed investment from UK agritech company Roslin Technologies and SEEDS Capital, the investment arm of Enterprise Singapore.
It is in the midst of commissioning a pilot commercial facility in Malaysia's Johor state, that will allow it to produce container-loads of insect protein for aquafeed and dog food each month. Protenga is, first and foremost, an insect technology company whose solutions include decentralised insect-farming modules that can be deployed close to where waste biomass such as palm oil by-products are generated, said Wein.
Some insect start-ups in Asia produce oil and protein powder for poultry or aquafeed, and frass (insect poop) for fertiliser. Others develop products for human consumption.
Wein said developing pet food helps Protenga create visibility and engage with end-consumers on what goes into food. Compared to human food, there are fewer regulatory hurdles for pet food and the distribution channels are also different, he noted. The company also wanted products that consumers would regularly buy.
Prices of insect-based pet food are in the mid- to upmarket range, but market research has shown that the pet care industry in Asia is expected to grow as more people treat pets as part of the family and are willing to fork out money for their well-being.
"Not everyone will be a customer; there are some dog owners that categorically say no (to insect-based dog food)," said Wein. "But you have a growing segment for whom it intuitively makes sense… and then it becomes more of a data and evidence-based sales conversation."
This article was first published by Eco-Business on July 28, 2020. The opinions expressed in this publication are those of the authors. They do not purport to reflect the opinions or views of Bank of Singapore Limited or its affiliates.
Disclaimer applicable to recommendation
IMPORTANT INFORMATION:
The contents of this article have not been prepared or reviewed by Bank of Singapore Limited (the "Bank"). The Bank is not responsible for the accuracy or completeness of the information contained in this article which may change without prior notice. This article may contain views which are not representative of the views of the Bank, and such views may have been derived without discussion, consultation or agreement with the Bank. You will need to decide as to whether or not the contents are suitable for you. When you are in doubt, please seek your own independent financial, legal, tax or other advice as you deem fit. Neither the Bank nor any of its officers accept any liability for any loss whatsoever arising out of or in connection with your use of the information in the article.

Cross-Border Marketing

Australia: Bank of Singapore Limited (i) is exempt from the requirement to hold an Australian financial services (AFS) licence under the Corporations Act 2001 (Cth) in respect of all financial products or financial services it provides in accordance with ASIC Class Order 03/1102 (as continued in force by ASIC Corporations (Repeal and Transitional) Instrument 2016/396) to any person in Australia who is a wholesale client, and (ii) is regulated by the Monetary Authority of Singapore under Singaporean laws which differ from Australian laws. Brunei: This document has not been delivered to, licensed or permitted by the Autoriti Monetari Brunei Darussalam, the authority as designated under the Brunei Darussalam Securities Markets Order, 2013 and the Banking Order, 2006; nor has it been registered with the Registrar of Companies, Registrar of International Business Companies or the Brunei Darussalam Ministry of Finance. The products mentioned in this document are not registered, licensed or permitted by the Autoriti Monetari Brunei Darussalam or by any other government agency or under any law in Brunei Darussalam. Any offers, acceptances, sales and allotments of the products shall be made outside Brunei Darussalam. Hong Kong SAR: Bank of Singapore Limited is an Authorized Institution as defined in the Banking Ordinance of Hong Kong (Cap 155), regulated by the Hong Kong Monetary Authority in Hong Kong and a Registered Institution as defined in the Securities and Futures Ordinance of Hong Kong (Cap. 571), regulated by the Securities and Futures Commission in Hong Kong. Indonesia: The offering of the investment product in reliance of this document is not registered under the Indonesian Capital Market Law and its implementing regulations, and is not intended to constitute a public offering of securities under the Indonesian Capital Market Law and its implementing regulations. According, this investment product may not be offered or sold, directly or indirectly, within Indonesia or to citizens (wherever they are domiciled or located), entities or residents, in any manner which constitutes a public offering of securities under the Indonesian Capital Market Law and its implementing regulations. Malaysia: Bank of Singapore Limited does not hold any licence, registration or approval to carry on any regulated business in Malaysia (including but not limited to any businesses regulated under the Capital Markets & Services Act 2007 of Malaysia), nor does it hold itself out as carrying on or purport to carry on any such business in Malaysia. Any services provided by Bank of Singapore Limited to residents of Malaysia are provided solely on an offshore basis from outside Malaysia, either as a result of "reverse enquiry" on the part of the Malaysian residents or where Bank of Singapore Limited has been retained outside Malaysia to provide such services. As an integral part of the provision of such services from outside Malaysia, Bank of Singapore Limited may from time to time make available to such residents documents and information making reference to capital markets products (for example, in connection with the provision of fund management or investment advisory services outside of Malaysia). Nothing in such documents or information is intended to be construed as or constitute the making available of, or an offer or invitation to subscribe for or purchase any such capital markets product. Myanmar: The provision of any products and services by Bank of Singapore Limited shall be solely on an offshore basis. You shall ensure that you have and will continue to be fully compliant with all applicable laws in Myanmar when entering into discussion or contracts with Bank of Singapore Limited. Oman: This document does not constitute a public offer of investment, securities or financial services in the Sultanate of Oman, as contemplated by the Commercial Companies Law of Oman (Royal Decree No. 18/2019), Banking Law of Oman (Royal Decree No. 114/2000) or the Capital Market Law of Oman (Royal Decree No. 80/1998) and the Executive Regulations of the Capital Market Law (Ministerial Decision No. 1/2009) or an offer to sell or the solicitation of any offer to buy non-Omani investment products, securities or financial services and products in the Sultanate of Oman. This document is strictly private and confidential. It is being provided to a limited number of sophisticated investors solely to enable them to decide whether or not to make an offer to invest in financial products mentioned in this document, outside of the Sultanate of Oman, upon the terms and subject to the restrictions set out herein and may not be reproduced or used for any other purpose or provided to any person other than the original recipient. Additionally, this document is not intended to lead to the making of any contract within the territory or under the laws of the Sultanate of Oman. The Capital Market Authority of Oman and the Central Bank of Oman take no responsibility for the accuracy of the statements and information contained in this document or for the performance of the financial products mentioned in this document nor shall they have any liability to any person for damage or loss resulting from reliance on any statement or information contained herein Russia: The investment products mentioned in this document have not been registered with or approved by the local regulator of any country and are not publicly distributed in Singapore or elsewhere. This document does not constitute or form part of an offer or invitation to the public in any country to subscribe for the products referred to herein. Saudi Arabia: The Bank has not received authorization or licensing from the Saudi Arabian Monetary Agency or any other governmental authority in the Kingdom of Saudi Arabia to carry on banking business within the Kingdom of Saudi Arabia and the Bank does not hold itself out as carrying on, and does not carry on banking business. South Korea: The document does not constitute an offer, solicitation or investment advertisement to trade in the investment product referred to in the document. The Philippines: The information contained in this document is not intended to constitute a public offering of securities under the Securities Regulation Code of the Philippines. Dubai International Financial Center (DIFC): Bank of Singapore Limited has a branch registered in the Dubai International Financial Centre ("DIFC") which is regulated by the Dubai Financial Services Authority ("DFSA"). Bank of Singapore Limited (DIFC Branch) is not a financial institution licensed in the United Arab Emirates outside of the DIFC and does not undertake banking or financial activities in the United Arab Emirates nor is it licensed to do so outside of the DIFC. This material is provided for information purposes only and it is general information not specific in any way to any particular investor, investor type, strategy, investment need or other financial circumstance. As such this information is not financial advice or a financial promotion, nor is it intended to influence an investor's decision to invest. It is not to be construed as an offer to buy or sell or solicitation of an offer to buy or sell any financial instruments or to participate in any particular trading strategy in any jurisdiction. The material is only intended for persons who fulfill the criteria to be classified as "Professional Clients" as defined under the DFSA rules and should not be reviewed, received, provided to or relied upon by any other person. United Arab Emirates (U.A.E): The information contained herein is exclusively addressed to the recipient. The offering of certain products in this document has not been and will not be registered with the Central Bank of United Arab Emirates or Securities & Commodities Authority in the United Arab Emirates. Any products in this document that are being offered or sold do not constitute a public offering or distribution of securities under the applicable laws and regulations of the United Arab Emirates. This document is not intended for circulation or distribution in or into the UAE, other than to persons in the UAE to whom such circulation or distribution is permitted by, or is exempt from the requirements of, the applicable laws and regulations of the United Arab Emirates. The distribution of the information contained herein by the recipient is prohibited. Where applicable, this document relates to securities which are listed outside of the Abu Dhabi Securities Exchange and the Dubai Financial Market. The Bank of Singapore Limited is not authorized to provide investment research regarding securities listed on the exchanges of the United Arab Emirates which are outside of the DIFC. United Kingdom: In the United Kingdom, this document is being made available only to the person or the entity to whom it is directed being persons to whom it may lawfully be directed under applicable laws and regulations of the United Kingdom (such persons are hereinafter referred to as 'relevant persons'). Accordingly, this document is communicated only to relevant persons. Persons who are not relevant persons must not act on or rely on this document or any of its contents. Any investment or investment activity to which this document relates is available only to relevant persons and will be engaged in only with relevant persons. Relevant persons in receipt of this document must not distribute, publish, reproduce, or disclose this document (in whole or in part) to any person who is not a relevant person. United States of America: This product may not be sold or offered within the United States or to U.S. persons.

In Hong Kong, Bank of Singapore Limited is a branch of Bank of Singapore Limited incorporated in Singapore with limited liability.
© 2020 Bank of Singapore Limited. All rights reserved.
Version: July 2020