How artificial intelligence is shaping talent competitiveness around the world.
Dystopian science fiction, as well as recent dire warnings from industry, have sometimes pointed at the dangers of artificial intelligence (AI). Today however, the positive effects of AI have become pervasive in our everyday lives. In medicine, for example, neuropathologists are using it to help diagnose and quickly recommend treatment for brain tumours, and dermatologists to identify melanomas. AI can also be used to spot forest fires; it's crucial to the study of climate change. AI is also a long-established reality within cars and smart homes.
AI is here to stay and clearly it will change the future of work. One OECD working paper indicates that 14 percent of jobs are at risk as they are "highly automatable", and an additional 32 percent are likely to experience significant changes. How can we ensure AI is a force for good?
This year's Global Talent Competitiveness Index (GTCI), which includes 132 countries, focuses on AI and talent competitiveness. Adapting to this new way of working is important for countries to grow their economies and stay globally competitive.
Over the past few years, an increasing number of countries have adopted AI strategies. To ensure that AI is a force for good, these strategies must be value-based and principle-led. From a labour market point of view, efforts should be geared to integrating rather than replacing the human factor. Adaptive talent – those skills that are exclusively human like creativity, curiosity, enthusiasm, leadership, empathy and compassion – is what makes the difference in addressing complex problems and seizing distant opportunities.
The top 10 of the GTCI 2020
The top 10 countries in this year's rankings are high-income economies that perform well across both the input (i.e. market landscape, education) and output (i.e. employability, talent impact) pillars of the GTCI model. Stability among the highest ranked nations continues, with slight shifts amongst the top 10 and the addition of a third non-European country: Australia (10), a leader in formal education and talent attraction.
Table 1: GTCI Top 10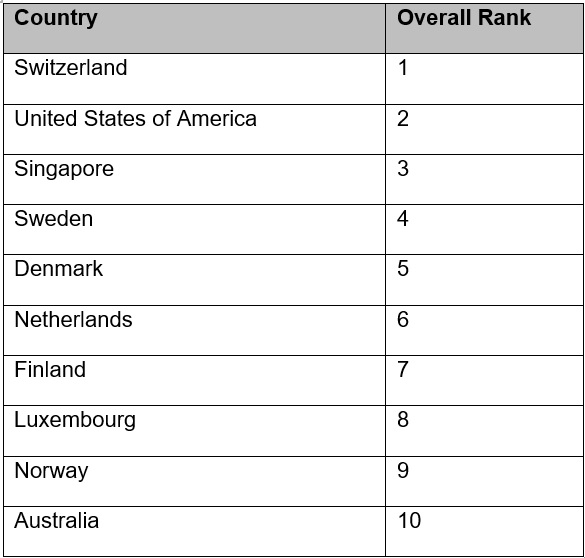 Focusing on AI, the report aims to capture the level of technological adoption, investment in new technologies and robot density. Obviously these are not perfect measures, but they act as proxies that can be tracked at a global level. Not entirely surprisingly, the top of the rankings includes countries that perform well in these variables. For instance, the United States (2)* tops the list in technology utilisation and investment in emerging technologies. Singapore (3) leads in robot density.
Switzerland (1) remains the leader across the input and output pillars, although it doesn't score as well in terms of gender equality or tolerance of minorities. Sweden (4) continues to perform well in the rankings, especially in terms of both regulatory and market landscapes. Denmark (5) is a leader in retaining talent. Vocational and technical skills help both the Netherlands (6) and Finland (7) into the top 10. Luxembourg (8) scores well in innovation and entrepreneurialism but needs improvement in formal education. The last of the Nordics, Norway (9), is a leader in retaining home-grown talent.
A longer term vision
The 2020 GTCI includes a longitudinal analysis for the second year; it's easier to spot trends when looking at a longer time frame. Now the report compares two time periods: 2015-2017 and 2018-2020. A widening gap between the talent champions and the rest is visible as talent inequalities appear to be broadening. Median scores from the three highest scoring regions (Asia/Oceania, Europe and North America) have increased over time, whereas overall scores for countries in Central and South America and Africa have declined.
The pacesetter over the two time periods is Indonesia (65), a lower-middle-income country that has improved across almost all pillars. When comparing the averages, Indonesia has climbed 20 positions.
Expanding on the time-series analysis, in the figure below, the evolution of countries' scores is plotted over four talent quadrants: Movers, Champions, Laggards and Limpers.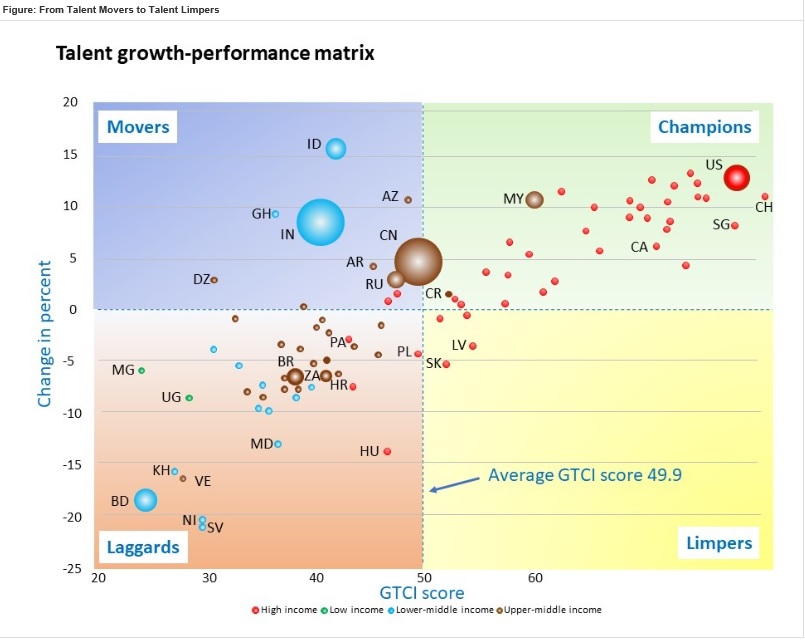 Most high-income countries are talent champions. Each of the five top-ranked countries for the period 2018–2020 has either retained its position or improved it over the earlier three-year period.
Malaysia (26) and Costa Rica (37) are two upper-middle-income countries also in the champion quadrant while most other upper-middle-income countries are laggards. China (42) sits on the line between mover and champion. India (72) is in the mover quadrant and Brazil (80) is in the laggard one.
Top 10 cities
This year's Global City Talent Competitiveness Index (GCTCI) has grown from a ranking of 114 cities to 155 cities. This year saw improvements in methodology, which explains some significant shifts among the GCTCI top 10.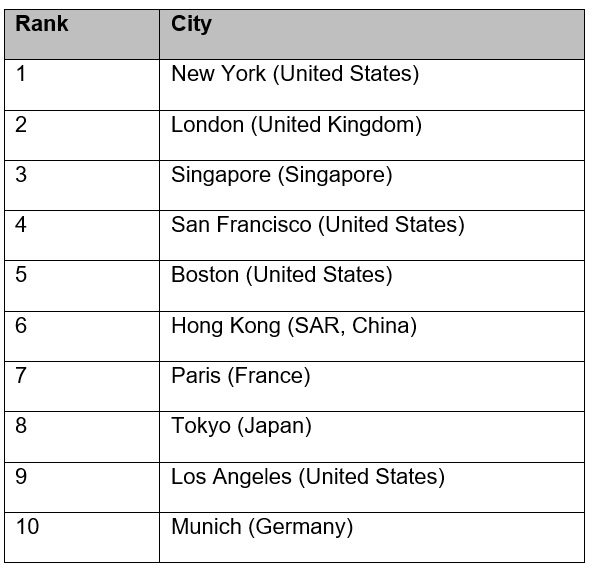 Only three European cities are in this year's top 10; with three in Asia and the US with four. Cities with a proven ability for future readiness tend to be towards the top, as are many large cities. Urban hubs with activity in AI or advanced technologies shine in these rankings. Indeed, the top 5 talent competitive cities are known for hosting emerging technologies, including fintech and medtech: New York (1), London (2), Singapore (3), San Francisco (4) and Boston (5).
Medium-sized cities improve their scores with quality of life factors like environment and safety. They too can capitalise on the new wave of technology.
Bilbao's (83) successful AI-based talent strategy combined with adaptive talent is a recipe for success. Building on the Guggenheim effect, this city in Spain's Basque Country has attracted and developed innovative digital services for the future. It has an entrepreneurship hub, as well as a strong local community of knowledge industry workers.
A new narrative
The degree of citizens' acceptance of AI varies around the globe. In many respects, AI is frontier technology, ahead of the legal and regulatory efforts it calls for. Cities are the natural test beds where practical applications and social acceptability can be assessed. The examples of Bilbao and Berlin (39) in the report highlight the importance of successful development of AI talent and how these cities attract increasing international attention in this regard.
When creating a strategy for AI at any level, it is critical to create a narrative about the future of jobs that emphasises the possibilities (and limitations) of AI rather than instilling fear. The broader workforce – including older adults and women – will need the opportunities, skills and empowerment to fulfil these new ways of working created by AI. The hope is that the future of work will include AI giving more meaning to jobs and encouraging that very human characteristic of cooperation.
*All numbers in parentheses refer to the GTCI 2020 ranking.
The GTCI is an annual index created in partnership with the Adecco Group and Google; it aims to give governments and businesses the distilled data from 132 countries needed to inform their decisions about talent policies and strategies. The report itself has details about methodology as well as country profiles.
Felipe Monteiro is a Senior Affiliate Professor of Strategy at INSEAD. He is also the Academic Director of the Global Talent Competitiveness Index. He is the Programme Director for INSEAD's partner programme with Fundação Dom Cabral, Advanced Management Program (PGA).
Bruno Lanvin is the Executive Director of Global Indices at INSEAD.
This article is republished courtesy of INSEAD Knowledge. Copyright INSEAD 2020. The opinions expressed in this publication are those of the authors. They do not purport to reflect the opinions or views of Bank of Singapore Limited or its affiliates.

Disclaimer applicable to recommendation
Important Information
The contents of this document have not been prepared or reviewed by Bank of Singapore Limited (the "Bank"). The Bank is not responsible for the accuracy or completeness of the information contained in this document which may change without prior notice. This communication may contain views which are not representative of the views of the Bank, and such views may have been derived without discussion, consultation or agreement with the Bank. You will need to decide as to whether or not the contents are suitable for you. When you are in doubt, please seek your own independent financial, legal, tax or other advice as you deem fit. Neither the Bank nor any of its officers accept any liability for any loss whatsoever arising out of or in connection with your use of the information in the document.

Cross-Border Marketing

Australia: Bank of Singapore Limited (i) is exempt from the requirement to hold an Australian financial services (AFS) licence under the Corporations Act 2001 (Cth) in respect of all financial products or financial services it provides in accordance with ASIC Class Order 03/1102 (as continued in force by ASIC Corporations (Repeal and Transitional) Instrument 2016/396) to any person in Australia who is a wholesale client, and (ii) is regulated by the Monetary Authority of Singapore under Singaporean laws which differ from Australian laws. Brunei: This document has not been delivered to, licensed or permitted by the Autoriti Monetari Brunei Darussalam, the authority as designated under the Brunei Darussalam Securities Markets Order, 2013 and the Banking Order, 2006; nor has it been registered with the Registrar of Companies, Registrar of International Business Companies or the Brunei Darussalam Ministry of Finance. The products mentioned in this document are not registered, licensed or permitted by the Autoriti Monetari Brunei Darussalam or by any other government agency or under any law in Brunei Darussalam. Any offers, acceptances, sales and allotments of the products shall be made outside Brunei Darussalam. Hong Kong SAR: Bank of Singapore Limited is an Authorized Institution as defined in the Banking Ordinance of Hong Kong (Cap 155), regulated by the Hong Kong Monetary Authority in Hong Kong and a Registered Institution as defined in the Securities and Futures Ordinance of Hong Kong (Cap. 571), regulated by the Securities and Futures Commission in Hong Kong. Indonesia: The offering of the investment product in reliance of this document is not registered under the Indonesian Capital Market Law and its implementing regulations, and is not intended to constitute a public offering of securities under the Indonesian Capital Market Law and its implementing regulations. According, this investment product may not be offered or sold, directly or indirectly, within Indonesia or to citizens (wherever they are domiciled or located), entities or residents, in any manner which constitutes a public offering of securities under the Indonesian Capital Market Law and its implementing regulations. Japan: The information contained in this document is for general reference purposes only. It does not have regard to your specific investment objectives, financial situation, risk tolerance and particular needs. Nothing in this document constitutes an offer to buy or sell or an invitation to offer to buy or sell or a recommendation or a solicitation to buy or sell any securities or investment. We do not have any intention of conducting regulated business in Japan. You acknowledge that nothing in this document constitutes investment or financial advice or any advice of any nature. Malaysia: Bank of Singapore Limited does not hold any licence, registration or approval to carry on any regulated business in Malaysia (including but not limited to any businesses regulated under the Capital Markets & Services Act 2007 of Malaysia), nor does it hold itself out as carrying on or purport to carry on any such business in Malaysia. Any services provided by Bank of Singapore Limited to residents of Malaysia are provided solely on an offshore basis from outside Malaysia, either as a result of "reverse enquiry" on the part of the Malaysian residents or where Bank of Singapore Limited has been retained outside Malaysia to provide such services. As an integral part of the provision of such services from outside Malaysia, Bank of Singapore Limited may from time to time make available to such residents documents and information making reference to capital markets products (for example, in connection with the provision of fund management or investment advisory services outside of Malaysia). Nothing in such documents or information is intended to be construed as or constitute the making available of, or an offer or invitation to subscribe for or purchase any such capital markets product. Myanmar: The provision of any products and services by Bank of Singapore Limited shall be solely on an offshore basis. You shall ensure that you have and will continue to be fully compliant with all applicable laws in Myanmar when entering into discussion or contracts with Bank of Singapore Limited. Oman: This document does not constitute a public offer of investment, securities or financial services in the Sultanate of Oman, as contemplated by the Commercial Companies Law of Oman (Royal Decree No. 4/1974), Banking Law of Oman (Royal Decree No. 114/2000) or the Capital Market Law of Oman (Royal Decree No. 80/1998) and the Executive Regulations of the Capital Market Law (Ministerial Decision No. 1/2009) or an offer to sell or the solicitation of any offer to buy non-Omani investment products, securities or financial services and products in the Sultanate of Oman. This document is strictly private and confidential. It is being provided to a limited number of sophisticated investors solely to enable them to decide whether or not to make an offer to invest in financial products mentioned in this document, outside of the Sultanate of Oman, upon the terms and subject to the restrictions set out herein and may not be reproduced or used for any other purpose or provided to any person other than the original recipient. Additionally, this document is not intended to lead to the making of any contract within the territory or under the laws of the Sultanate of Oman. The Capital Market Authority of Oman and the Central Bank of Oman take no responsibility for the accuracy of the statements and information contained in this document or for the performance of the financial products mentioned in this document nor shall they have any liability to any person for damage or loss resulting from reliance on any statement or information contained herein. Russia: The investment products mentioned in this document have not been registered with or approved by the local regulator of any country and are not publicly distributed in Singapore or elsewhere. This document does not constitute or form part of an offer or invitation to the public in any country to subscribe for the products referred to herein. South Korea: The document does not constitute an offer, solicitation or investment advertisement to trade in the investment product referred to in the document. The Philippines: The information contained in this document is not intended to constitute a public offering of securities under the Securities Regulation Code of the Philippines. Dubai International Financial Center (DIFC): Bank of Singapore Limited has a branch registered in the Dubai International Financial Centre ("DIFC") which is regulated by the Dubai Financial Services Authority ("DFSA"). Bank of Singapore Limited (DIFC Branch) is not a financial institution licensed in the United Arab Emirates outside of the DIFC and does not undertake banking or financial activities in the United Arab Emirates nor is it licensed to do so outside of the DIFC. This material is provided for information purposes only and it is general information not specific in any way to any particular investor, investor type, strategy, investment need or other financial circumstance. As such this information is not financial advice or a financial promotion, nor is it intended to influence an investor's decision to invest. It is not to be construed as an offer to buy or sell or solicitation of an offer to buy or sell any financial instruments or to participate in any particular trading strategy in any jurisdiction. The material is only intended for persons who fulfill the criteria to be classified as "Professional Clients" as defined under the DFSA rules and should not be reviewed, received, provided to or relied upon by any other person. United Arab Emirates (U.A.E): The information contained herein is exclusively addressed to the recipient. The offering of certain products in this document has not been and will not be registered with the Central Bank of United Arab Emirates or Securities & Commodities Authority in the United Arab Emirates. Any products in this document that are being offered or sold do not constitute a public offering or distribution of securities under the applicable laws and regulations of the United Arab Emirates. This document is not intended for circulation or distribution in or into the UAE, other than to persons in the UAE to whom such circulation or distribution is permitted by, or is exempt from the requirements of, the applicable laws and regulations of the United Arab Emirates. The distribution of the information contained herein by the recipient is prohibited. Where applicable, this document relates to securities which are listed outside of the Abu Dhabi Securities Exchange and the Dubai Financial Market. The Bank of Singapore Limited is not authorized to provide investment research regarding securities listed on the exchanges of the United Arab Emirates which are outside of the DIFC. United Kingdom: In the United Kingdom, this document is being made available only to the person or the entity to whom it is directed being persons to whom it may lawfully be directed under applicable laws and regulations of the United Kingdom (such persons are hereinafter referred to as 'relevant persons'). Accordingly, this document is communicated only to relevant persons. Persons who are not relevant persons must not act on or rely on this document or any of its contents. Any investment or investment activity to which this document relates is available only to relevant persons and will be engaged in only with relevant persons. Relevant persons in receipt of this document must not distribute, publish, reproduce, or disclose this document (in whole or in part) to any person who is not a relevant person. United States of America: This product may not be sold or offered within the United States or to U.S. persons. In Hong Kong, Bank of Singapore Limited is a branch of Bank of Singapore Limited incorporated in Singapore with limited liability.
© 2019 Bank of Singapore Limited. All rights reserved.
Version: December 2019