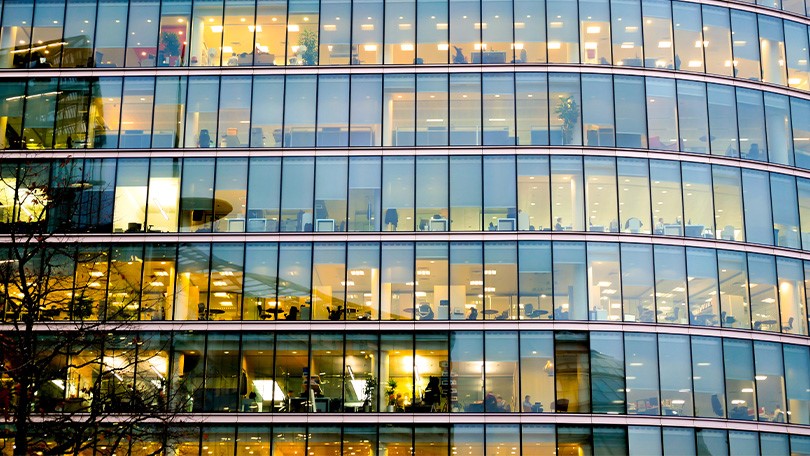 As businesses prepare to crank their operations back up after months of inactivity, the clear skies, roads and shipping lanes that have defined the pandemic lockdown period could soon be over.
The emissions decline - the biggest since the Second World War - that has resulted from an economic slump will quickly be reversed if companies go back to work as if the biggest wakeup call in the recent history of human activity had never happened.
Now is an opportunity for businesses to decouple economic growth from the forces that have led to the pandemic - among them, exploitation of natural resources and climate change. Businesses may be under pressure to get back on their feet, but they do so with different expectations from stakeholders, commented Thomas Milburn, Southeast Asia director of sustainability consultancy Corporate Citizenship.
One lesson from working with busineses during the Covid-19 pandemic is that the economy should support society and people's livelihoods, not the other way around, said Milburn. "Businesses with a clear sense of purpose that is attuned to the needs and well-being of society are those that we will place our trust in as employees, customers and investors, in order to rebuild better."
A second lesson is that businesses should see in Covid-19 the disruptions they are likely to face from climate change, Milburn said, pointing out that five of the 10 biggest long-term risks businesses face are climate-related, according to a report from World Economic Forum, published in January.
Business needs to get serious about climate risks as they rebuild post-Covid, and build resilience into the economic, social and environmental systems on which we all rely, Milburn said.
But how? Here are eight ways sustainability can help businesses and society in the post-Covid era.
Source local
A combination of Covid-19 movement restrictions and the trade war between China and the United States has hurt international trade, and prompted firms to source locally to minimise disruption risks. Post-Covid, if businesses continue to proximity-source their goods, they could align their supply chains with climate goals. Shipping accounts for about 3 per cent of global emissions. A 7 per cent reduction in dry cargo trade would align carbon emissions from the shipping sector with the Paris Agreement's 2°C global warming limit by 2030, according to projections from climate risk assessment firm Trucost.
Don't fly
The pandemic has forced the corporate world to get used to using video conferencing technologies. If this way of working sticks, firms could dramatically rein in their travel carbon footprint by not flying to meetings and events. Before Covid, carbon emissions from aviation were projected to rise by a third by 2050. However, according to Trucost analysis, if every company that uses air travel cut its air milage by 40 per cent, it would align the entire aviation sector with a 2°C climate scenario by 2030.
Home work
Businesses adapted quickly to lockdowns by removing the technical and behavioural barriers of remote working. Work has stopped being a place people go, to just being something people do. Companies that do not recall their staff back to offices stand to gain from carbon savings from reducing commuting and increased productivity. According to Trucost data, if all professional services firms implemented a three-day work-from-home policy, it would align emissions from passenger transport with a 2°C climate scenario for the next five years (further efficiency gains and more sustainable transport use such as electric cars would be needed after 2026 to keep emissions reductions in line, Trucost calculates).
Care work
Covid-19 has exposed the importance of human resources to a business, as issues ranging from managing furloughed workers to working-from-home arrangements have swamped the HR department. Firms need to place greater emphasis on the value of the HR function to better manage their place in society, starting with care work. "Employers have the responsibility to not see caring needs as a burden but as fundamental to society," said Madhumitha Ardhanari, a strategist at sustainability non-profit Forum for the Future. "Caring can be about regularly checking in with staff, and offering mental health support for those in need. It is also about showing appreciation for cleaning aunties, food delivery riders, hawkers and migrant workers. Covid presents businesses with an opportunity to reduce inequalities in the workforce. This virus has shown how we are all interlinked."
Sort trash
Remote working will reduce the amount of waste a company generates, and sorting trash will help drive the local circular economy for used materials—and save money in the process. Though it varies by sector, waste management consumes about 4 per cent of a company's total turnover, including the value of unused resources. Even in Singapore, where the recycling rate is low, businesses that segregate and recycle their trash make savings compared to companies that don't, said Remi Cesaro, director of consultancy Zero Waste City. Shopping malls, for instance, which produce between 500-2000 tonnes of trash a year, can save 60 of the cost of waste collection by segregating their waste.
Check chillers
The big-three sources of building energy consumption are lighting, IT and cooling. To reduce energy use from lighting, switch to LED right away, said Cesaro. To fix computing is mostly about user behaviour. Encourage staff to use energy-saving devices like screen-savers, and power down their machines when they're not in use.
The big one is cooling, the single largest consumer of building energy in the tropics. Cutting cooling energy consumption, Cesaro explained, requires dilligent maintainence—an inefficiently run HVAC [heating, ventilation, and air-conditioning] system can add 20 per cent to the energy consumption total. Adding a predictive analysis tool to the system, which predicts when the efficiency of the chiller will change, can add 2-5 per cent savings, he said.
Professor Lee Poh Seng, deputy director of the Centre for Energy Research & Technology at the National University of Singapore, said that as offices won't be full, companies need to adjust the settings of their cooling systems. Firms moving into new offices should consider less energy-intensive solutions such as chilled beams or passive displacement ventilation systems - which also minimise infection risk - he said.
Trim events
Events have had to adapt and go digital. Many will remain so, as webinars get better and replace physical conferences. But in business, nothing beats in-person meetings. When events do return, organisers could consider two ways to run more sustainable gatherings—both of which require cultural change.
First, think harder about the biggest environmental cost of events: food. A study by Singapore-based consultancy Earthys found that event organisers, particularly in Asia, tend to overcater to avoid losing face. One solution would be to peg the catering budget to the amount of food waste generated at the previous event, Earthys suggests. This would encourage organisers to monitor attendee turnout more closely, and adjust catering quantity accordingly.
Second, stop giving out goody bags. Most tend to end up in the bins outside the event venue, said Earthys director, Dr Nanthinee Jevanandam. To avoid the reputational hit of being seen as stingy, event organisers should first ask attendees if they actually want to receive any gifts. Most will decline, making it easier to withdraw good bags altogether at the next event.
ESG resilience
"For the first time, there is strong evidence that environmental, social and governance (ESG) issues really matter for business," said Rajesh Chhabra, managing director of sustainability consultancy, CSRWorks International. He pointed to data showing that socially responsible investments have seen better-than-average returns since the start of the pandemic. However, companies that report emissions and other ESG-rated data are still in the minority.
Now is the time for companies, particularly more vulnerable small-to-medium sized busineses, to learn from others with serious ESG credentials that have shown greater resilience during the crisis. "Some companies will take the short-sighted view to focus purely on financial matters coming out of Covid. But whenever the recovery happens, the companies that stayed the course [with ESG] will see a big upside," he said.
Measuring ESG performance will guide companies towards decarbonisation, cutting emissions and costs in the process. As well as investing in energy efficiency and switching to a renewable power source, introducing an internal carbon pricing system could limit the risks of the transition into a low-carbon company.
This article was first published by Eco-Business on June 19, 2020. The opinions expressed in this publication are those of the authors. They do not purport to reflect the opinions or views of Bank of Singapore Limited or its affiliates.
Disclaimer applicable to recommendation
IMPORTANT INFORMATION:
The contents of this article have not been prepared or reviewed by Bank of Singapore Limited (the "Bank"). The Bank is not responsible for the accuracy or completeness of the information contained in this article which may change without prior notice. This article may contain views which are not representative of the views of the Bank, and such views may have been derived without discussion, consultation or agreement with the Bank. You will need to decide as to whether or not the contents are suitable for you. When you are in doubt, please seek your own independent financial, legal, tax or other advice as you deem fit. Neither the Bank nor any of its officers accept any liability for any loss whatsoever arising out of or in connection with your use of the information in the article.

Cross-Border Marketing

Australia: Bank of Singapore Limited (i) is exempt from the requirement to hold an Australian financial services (AFS) licence under the Corporations Act 2001 (Cth) in respect of all financial products or financial services it provides in accordance with ASIC Class Order 03/1102 (as continued in force by ASIC Corporations (Repeal and Transitional) Instrument 2016/396) to any person in Australia who is a wholesale client, and (ii) is regulated by the Monetary Authority of Singapore under Singaporean laws which differ from Australian laws. Brunei: This document has not been delivered to, licensed or permitted by the Autoriti Monetari Brunei Darussalam, the authority as designated under the Brunei Darussalam Securities Markets Order, 2013 and the Banking Order, 2006; nor has it been registered with the Registrar of Companies, Registrar of International Business Companies or the Brunei Darussalam Ministry of Finance. The products mentioned in this document are not registered, licensed or permitted by the Autoriti Monetari Brunei Darussalam or by any other government agency or under any law in Brunei Darussalam. Any offers, acceptances, sales and allotments of the products shall be made outside Brunei Darussalam. Hong Kong SAR: Bank of Singapore Limited is an Authorized Institution as defined in the Banking Ordinance of Hong Kong (Cap 155), regulated by the Hong Kong Monetary Authority in Hong Kong and a Registered Institution as defined in the Securities and Futures Ordinance of Hong Kong (Cap. 571), regulated by the Securities and Futures Commission in Hong Kong. Indonesia: The offering of the investment product in reliance of this document is not registered under the Indonesian Capital Market Law and its implementing regulations, and is not intended to constitute a public offering of securities under the Indonesian Capital Market Law and its implementing regulations. According, this investment product may not be offered or sold, directly or indirectly, within Indonesia or to citizens (wherever they are domiciled or located), entities or residents, in any manner which constitutes a public offering of securities under the Indonesian Capital Market Law and its implementing regulations. Malaysia: Bank of Singapore Limited does not hold any licence, registration or approval to carry on any regulated business in Malaysia (including but not limited to any businesses regulated under the Capital Markets & Services Act 2007 of Malaysia), nor does it hold itself out as carrying on or purport to carry on any such business in Malaysia. Any services provided by Bank of Singapore Limited to residents of Malaysia are provided solely on an offshore basis from outside Malaysia, either as a result of "reverse enquiry" on the part of the Malaysian residents or where Bank of Singapore Limited has been retained outside Malaysia to provide such services. As an integral part of the provision of such services from outside Malaysia, Bank of Singapore Limited may from time to time make available to such residents documents and information making reference to capital markets products (for example, in connection with the provision of fund management or investment advisory services outside of Malaysia). Nothing in such documents or information is intended to be construed as or constitute the making available of, or an offer or invitation to subscribe for or purchase any such capital markets product. Myanmar: The provision of any products and services by Bank of Singapore Limited shall be solely on an offshore basis. You shall ensure that you have and will continue to be fully compliant with all applicable laws in Myanmar when entering into discussion or contracts with Bank of Singapore Limited. Oman: This document does not constitute a public offer of investment, securities or financial services in the Sultanate of Oman, as contemplated by the Commercial Companies Law of Oman (Royal Decree No. 18/2019), Banking Law of Oman (Royal Decree No. 114/2000) or the Capital Market Law of Oman (Royal Decree No. 80/1998) and the Executive Regulations of the Capital Market Law (Ministerial Decision No. 1/2009) or an offer to sell or the solicitation of any offer to buy non-Omani investment products, securities or financial services and products in the Sultanate of Oman. This document is strictly private and confidential. It is being provided to a limited number of sophisticated investors solely to enable them to decide whether or not to make an offer to invest in financial products mentioned in this document, outside of the Sultanate of Oman, upon the terms and subject to the restrictions set out herein and may not be reproduced or used for any other purpose or provided to any person other than the original recipient. Additionally, this document is not intended to lead to the making of any contract within the territory or under the laws of the Sultanate of Oman. The Capital Market Authority of Oman and the Central Bank of Oman take no responsibility for the accuracy of the statements and information contained in this document or for the performance of the financial products mentioned in this document nor shall they have any liability to any person for damage or loss resulting from reliance on any statement or information contained herein Russia: The investment products mentioned in this document have not been registered with or approved by the local regulator of any country and are not publicly distributed in Singapore or elsewhere. This document does not constitute or form part of an offer or invitation to the public in any country to subscribe for the products referred to herein. Saudi Arabia: The Bank has not received authorization or licensing from the Saudi Arabian Monetary Agency or any other governmental authority in the Kingdom of Saudi Arabia to carry on banking business within the Kingdom of Saudi Arabia and the Bank does not hold itself out as carrying on, and does not carry on banking business. South Korea: The document does not constitute an offer, solicitation or investment advertisement to trade in the investment product referred to in the document. The Philippines: The information contained in this document is not intended to constitute a public offering of securities under the Securities Regulation Code of the Philippines. Dubai International Financial Center (DIFC): Bank of Singapore Limited has a branch registered in the Dubai International Financial Centre ("DIFC") which is regulated by the Dubai Financial Services Authority ("DFSA"). Bank of Singapore Limited (DIFC Branch) is not a financial institution licensed in the United Arab Emirates outside of the DIFC and does not undertake banking or financial activities in the United Arab Emirates nor is it licensed to do so outside of the DIFC. This material is provided for information purposes only and it is general information not specific in any way to any particular investor, investor type, strategy, investment need or other financial circumstance. As such this information is not financial advice or a financial promotion, nor is it intended to influence an investor's decision to invest. It is not to be construed as an offer to buy or sell or solicitation of an offer to buy or sell any financial instruments or to participate in any particular trading strategy in any jurisdiction. The material is only intended for persons who fulfill the criteria to be classified as "Professional Clients" as defined under the DFSA rules and should not be reviewed, received, provided to or relied upon by any other person. United Arab Emirates (U.A.E): The information contained herein is exclusively addressed to the recipient. The offering of certain products in this document has not been and will not be registered with the Central Bank of United Arab Emirates or Securities & Commodities Authority in the United Arab Emirates. Any products in this document that are being offered or sold do not constitute a public offering or distribution of securities under the applicable laws and regulations of the United Arab Emirates. This document is not intended for circulation or distribution in or into the UAE, other than to persons in the UAE to whom such circulation or distribution is permitted by, or is exempt from the requirements of, the applicable laws and regulations of the United Arab Emirates. The distribution of the information contained herein by the recipient is prohibited. Where applicable, this document relates to securities which are listed outside of the Abu Dhabi Securities Exchange and the Dubai Financial Market. The Bank of Singapore Limited is not authorized to provide investment research regarding securities listed on the exchanges of the United Arab Emirates which are outside of the DIFC. United Kingdom: In the United Kingdom, this document is being made available only to the person or the entity to whom it is directed being persons to whom it may lawfully be directed under applicable laws and regulations of the United Kingdom (such persons are hereinafter referred to as 'relevant persons'). Accordingly, this document is communicated only to relevant persons. Persons who are not relevant persons must not act on or rely on this document or any of its contents. Any investment or investment activity to which this document relates is available only to relevant persons and will be engaged in only with relevant persons. Relevant persons in receipt of this document must not distribute, publish, reproduce, or disclose this document (in whole or in part) to any person who is not a relevant person. United States of America: This product may not be sold or offered within the United States or to U.S. persons.

In Hong Kong, Bank of Singapore Limited is a branch of Bank of Singapore Limited incorporated in Singapore with limited liability.
© 2020 Bank of Singapore Limited. All rights reserved.
Version: July 2020