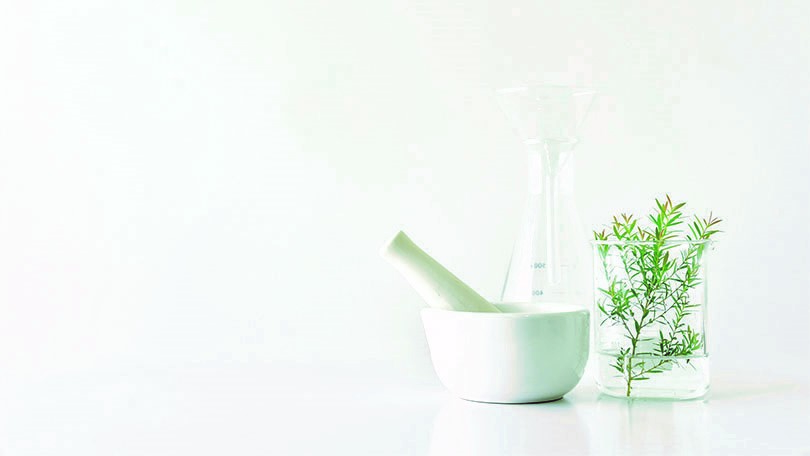 Running a startup is said to be like driving a car without shock absorbers. Running a startup in lockdown in the middle of a pandemic is probably like driving a car without shock absorbers, or wheels.
But Navneet Kaur, the co-founder and chief executive of Singapore-based earth-friendly skin care company Yours, has been on rollercoaster rides before. After a life of relative comfort working for one of India's largest conglomerates, Kaur joined Uber. In just over three years at the ride-hailing firm, she did four different jobs, latterly as head of driver operations for Southeast and North Asia. In April 2018, she moved to bicycle sharing company Ofo, a firm that went from billion-dollar startup to near bankruptcy in four years. Kaur's tenure there as head of strategy and operations lasted six months.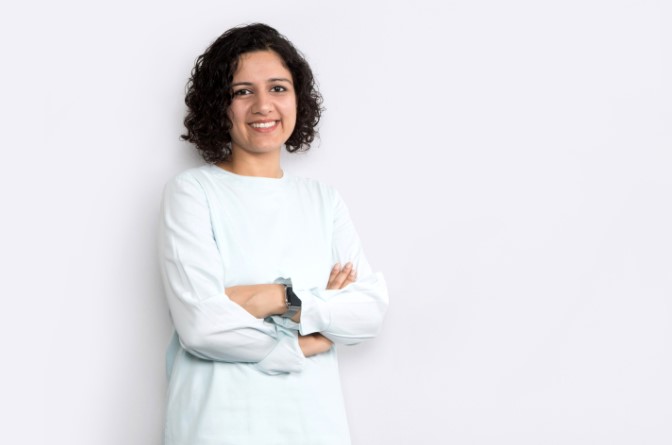 Navneet Kaur, founder and chief executive of earth-friendly skincare brand Yours. Kaur says the hardest thing about her job is finding sustainable suppliers. Image: Yours
She founded Yours in July 2018. The idea came to her after her husband Shivam, who would later become the company's marketing director, asked her for help with his skin problems. "If he had acne on his face, it affected his mood. That was a big moment of understanding for me. Skin care is about how we feel, not just about how we look to other people," she said.
Kaur set out to build a brand that could, using machine learning technology, create personalised skin care solutions. She was also determined to rethink every part of skin care, from ingredients to packaging, to tackle the industry's considerable environmental footprint. She has pointed out that synthetic fragrances in sprays pollute the air, sunscreens poison coral reefs, packaging pollutes the ocean, and palm oil, which 70 per cent of cosmetic companies use, has resulted in mass deforestation.
Yours' products use palm oil-free ingredients approved by research and advocacy non-profit Environmental Working Group that are not tested on animals, and packaging that is recyclable and minimises waste. A reusable refill option is coming soon, Kaur said.
In this interview from her home during lockdown, Kaur talks about what prompted her to move into the sustainability world, the hardest thing about her job and why she is obsessed with customer reviews.
What's your educational background?
I went to the Shri Ram College of Commerce New Delhi, where I got a Bachelor of Commerce, and then the Symbiosis Centre for Management and Human Resource Development in Pune, where I got an MBA in marketing.
What prompted you to move into sustainability?
I started my career as a brand manager for a large conglomerate (ITC) in India, where I launched a number of skin care brands. As I got deeper into understanding the manufacturing side of things, I became aware of the sustainability story behind skin care. I noticed how much single-use plastic and non-recyclable materials were being used. It was 2011, the time when 'natural' and 'organic' were buzzwords. It dawned on me that natural resources were being exploited and not replenished, and natural ingredients are not always better than synthetic ingredients. For instance, essential oils can cause allergies and chemicals like vitamin B12 can be produced in a lab and are good for the skin. A good skin product is about finding the right balance between science and nature.
Who has been your career mentor, and what was the most valuable thing you learned from them?
Rajshree Pathy, a celebrated entrepreneur. She founded Kama Ayurveda, a luxury beauty company. She understands the challenges of building a sustainable skin care brand and was fundamental to me taking the intiative to build Yours. She had faith in me was our first first angel investor.
What did you learn from your time at Uber and Ofo?
Staying agile is extremely important. It's almost a super power for a company. Build a culture that can adapt quickly. Stay competition-aware but not competition-obsessed. You can't build an amazing product by picking up the best features of other companies, you have to build your own and innovate.
What's the hardest thing about your job?
Finding sustainable packaging that is not too expensive. After a lot of research we found a sugar cane supplier to make our tubes, but it was much too costly (and the minimum order quantity was 70,000!). We are also looking for bioegradable fungus packaging, but finding a supplier was tough. Our products always get delayed because we're looking for better packaging.
Our packaging now is [plastic and] recyclable. We use airless pumps so that our customers can squeeze out every last droplet of the product, and ensure that the packaging can be recycled. But while packaging may be recyclable, a lot of it doesn't actually get recycled. So we're working on introducing refill packs, so that our packaging can be reused. A personal goal of mine is to cut packaging waste by half.
You don't use palm oil in your products. Do you not believe in sustainably sourced palm oil?
Palm oil is linked to tropical deforestation and contributes to climate change. If someone convinced me that palm oil didn't harm the environment, I would consider using it.
What motivates you?
What gets me up in the morning are customer reviews. I love reading stories about how customers have found support, not just from our products, but from each other through the conversations they have about their skin. My favourite review was from a customer who said she loves our products, and now feels so confident she doesn't wear makeup.
What's the best piece of advice you could give someone starting out in sustainability?
Be patient. I learned early on that if you want to be in sustainabililty, it's a long term investment.
What's the one thing you wish you knew before you started out in sustainability
I wish I'd known how difficult it can be to access innovations in sustainable packaging and ingredients. There's a lot of research involved, and a lot of cost that goes into research and development. Governments should support innovations in sustainability to make it easier for businesses like ours to find and use them.
You recently had record sales despite the Covid-19 pandemic. But how worried are you about the future?
We will struggle in a few months' time, if supply chains don't open up. The virus has impacted our product launch plans. We were going to launch cleansers and toners. That will get delayed. But we have set up packaging sources across different countries to diversify the risk, and implemented strict hygiene standards for each potential supplier.
This article was first published by Eco-Business on April 28, 2020. The opinions expressed in this publication are those of the authors. They do no purport to reflect the opinions or views of Bank of Singapore Limited or its affiliates.
Disclaimer applicable to recommendation
IMPORTANT INFORMATION:
The contents of this presentation have not been prepared or reviewed by Bank of Singapore Limited (the "Bank"). The Bank is not responsible for the accuracy or completeness of the information contained in this presentation which may change without prior notice. If you have any questions regarding the presentation, please refer your questions to the presenter. This presentation may contain views which are not representative of the views of the Bank, and such views may have been derived without discussion, consultation or agreement with the Bank. You will need to decide as to whether or not the contents are suitable for you. When you are in doubt, please seek your own independent financial, legal, tax or other advice as you deem fit. Neither the Bank nor any of its officers accept any liability for any loss whatsoever arising out of or in connection with your use of the information in the presentation.

Cross-Border Marketing

Australia: Bank of Singapore Limited (i) is exempt from the requirement to hold an Australian financial services (AFS) licence under the Corporations Act 2001 (Cth) in respect of all financial products or financial services it provides in accordance with ASIC Class Order 03/1102 (as continued in force by ASIC Corporations (Repeal and Transitional) Instrument 2016/396) to any person in Australia who is a wholesale client, and (ii) is regulated by the Monetary Authority of Singapore under Singaporean laws which differ from Australian laws. Brunei: This document has not been delivered to, licensed or permitted by the Autoriti Monetari Brunei Darussalam, the authority as designated under the Brunei Darussalam Securities Markets Order, 2013 and the Banking Order, 2006; nor has it been registered with the Registrar of Companies, Registrar of International Business Companies or the Brunei Darussalam Ministry of Finance. The products mentioned in this document are not registered, licensed or permitted by the Autoriti Monetari Brunei Darussalam or by any other government agency or under any law in Brunei Darussalam. Any offers, acceptances, sales and allotments of the products shall be made outside Brunei Darussalam. Hong Kong SAR: Bank of Singapore Limited is an Authorized Institution as defined in the Banking Ordinance of Hong Kong (Cap 155), regulated by the Hong Kong Monetary Authority in Hong Kong and a Registered Institution as defined in the Securities and Futures Ordinance of Hong Kong (Cap. 571), regulated by the Securities and Futures Commission in Hong Kong. Indonesia: The offering of the investment product in reliance of this document is not registered under the Indonesian Capital Market Law and its implementing regulations, and is not intended to constitute a public offering of securities under the Indonesian Capital Market Law and its implementing regulations. According, this investment product may not be offered or sold, directly or indirectly, within Indonesia or to citizens (wherever they are domiciled or located), entities or residents, in any manner which constitutes a public offering of securities under the Indonesian Capital Market Law and its implementing regulations. Japan: The information contained in this document is for general reference purposes only. It does not have regard to your specific investment objectives, financial situation, risk tolerance and particular needs. Nothing in this document constitutes an offer to buy or sell or an invitation to offer to buy or sell or a recommendation or a solicitation to buy or sell any securities or investment. We do not have any intention of conducting regulated business in Japan. You acknowledge that nothing in this document constitutes investment or financial advice or any advice of any nature. Malaysia: Bank of Singapore Limited does not hold any licence, registration or approval to carry on any regulated business in Malaysia (including but not limited to any businesses regulated under the Capital Markets & Services Act 2007 of Malaysia), nor does it hold itself out as carrying on or purport to carry on any such business in Malaysia. Any services provided by Bank of Singapore Limited to residents of Malaysia are provided solely on an offshore basis from outside Malaysia, either as a result of "reverse enquiry" on the part of the Malaysian residents or where Bank of Singapore Limited has been retained outside Malaysia to provide such services. As an integral part of the provision of such services from outside Malaysia, Bank of Singapore Limited may from time to time make available to such residents documents and information making reference to capital markets products (for example, in connection with the provision of fund management or investment advisory services outside of Malaysia). Nothing in such documents or information is intended to be construed as or constitute the making available of, or an offer or invitation to subscribe for or purchase any such capital markets product. Myanmar: The provision of any products and services by Bank of Singapore Limited shall be solely on an offshore basis. You shall ensure that you have and will continue to be fully compliant with all applicable laws in Myanmar when entering into discussion or contracts with Bank of Singapore Limited. Oman: This document does not constitute a public offer of investment, securities or financial services in the Sultanate of Oman, as contemplated by the Commercial Companies Law of Oman (Royal Decree No. 4/1974), Banking Law of Oman (Royal Decree No. 114/2000) or the Capital Market Law of Oman (Royal Decree No. 80/1998) and the Executive Regulations of the Capital Market Law (Ministerial Decision No. 1/2009) or an offer to sell or the solicitation of any offer to buy non-Omani investment products, securities or financial services and products in the Sultanate of Oman. This document is strictly private and confidential. It is being provided to a limited number of sophisticated investors solely to enable them to decide whether or not to make an offer to invest in financial products mentioned in this document, outside of the Sultanate of Oman, upon the terms and subject to the restrictions set out herein and may not be reproduced or used for any other purpose or provided to any person other than the original recipient. Additionally, this document is not intended to lead to the making of any contract within the territory or under the laws of the Sultanate of Oman. The Capital Market Authority of Oman and the Central Bank of Oman take no responsibility for the accuracy of the statements and information contained in this document or for the performance of the financial products mentioned in this document nor shall they have any liability to any person for damage or loss resulting from reliance on any statement or information contained herein. Russia: The investment products mentioned in this document have not been registered with or approved by the local regulator of any country and are not publicly distributed in Singapore or elsewhere. This document does not constitute or form part of an offer or invitation to the public in any country to subscribe for the products referred to herein. South Korea: The document does not constitute an offer, solicitation or investment advertisement to trade in the investment product referred to in the document. The Philippines: The information contained in this document is not intended to constitute a public offering of securities under the Securities Regulation Code of the Philippines. Dubai International Financial Center (DIFC): Bank of Singapore Limited has a branch registered in the Dubai International Financial Centre ("DIFC") which is regulated by the Dubai Financial Services Authority ("DFSA"). Bank of Singapore Limited (DIFC Branch) is not a financial institution licensed in the United Arab Emirates outside of the DIFC and does not undertake banking or financial activities in the United Arab Emirates nor is it licensed to do so outside of the DIFC. This material is provided for information purposes only and it is general information not specific in any way to any particular investor, investor type, strategy, investment need or other financial circumstance. As such this information is not financial advice or a financial promotion, nor is it intended to influence an investor's decision to invest. It is not to be construed as an offer to buy or sell or solicitation of an offer to buy or sell any financial instruments or to participate in any particular trading strategy in any jurisdiction. The material is only intended for persons who fulfill the criteria to be classified as "Professional Clients" as defined under the DFSA rules and should not be reviewed, received, provided to or relied upon by any other person. United Arab Emirates (U.A.E): The information contained herein is exclusively addressed to the recipient. The offering of certain products in this document has not been and will not be registered with the Central Bank of United Arab Emirates or Securities & Commodities Authority in the United Arab Emirates. Any products in this document that are being offered or sold do not constitute a public offering or distribution of securities under the applicable laws and regulations of the United Arab Emirates. This document is not intended for circulation or distribution in or into the UAE, other than to persons in the UAE to whom such circulation or distribution is permitted by, or is exempt from the requirements of, the applicable laws and regulations of the United Arab Emirates. The distribution of the information contained herein by the recipient is prohibited. Where applicable, this document relates to securities which are listed outside of the Abu Dhabi Securities Exchange and the Dubai Financial Market. The Bank of Singapore Limited is not authorized to provide investment research regarding securities listed on the exchanges of the United Arab Emirates which are outside of the DIFC. United Kingdom: In the United Kingdom, this document is being made available only to the person or the entity to whom it is directed being persons to whom it may lawfully be directed under applicable laws and regulations of the United Kingdom (such persons are hereinafter referred to as 'relevant persons'). Accordingly, this document is communicated only to relevant persons. Persons who are not relevant persons must not act on or rely on this document or any of its contents. Any investment or investment activity to which this document relates is available only to relevant persons and will be engaged in only with relevant persons. Relevant persons in receipt of this document must not distribute, publish, reproduce, or disclose this document (in whole or in part) to any person who is not a relevant person. United States of America: This product may not be sold or offered within the United States or to U.S. persons. In Hong Kong, Bank of Singapore Limited is a branch of Bank of Singapore Limited incorporated in Singapore with limited liability.
© 2019 Bank of Singapore Limited. All rights reserved.
Version: December 2019