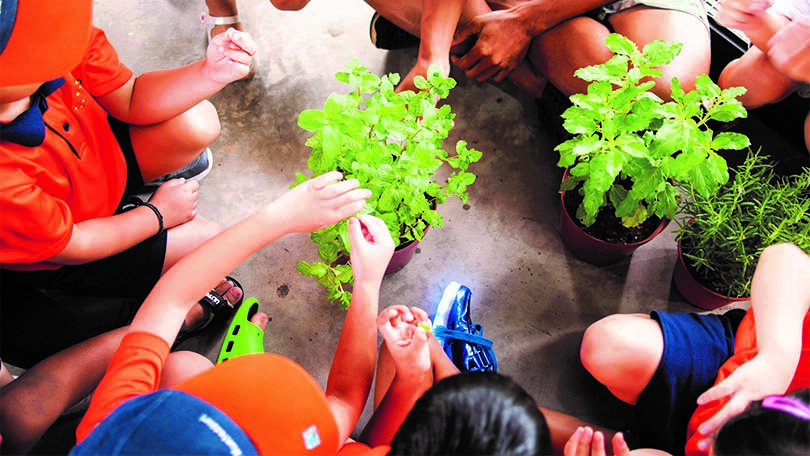 Contributing to responsible economic growth and sustainable development by being environmentally responsible is among the five sustainability pillars which guide our approach to embed responsible and sustainable business practices into the core of our business.
We feature Edible Garden City, a Singapore-based social enterprise which is dedicated to creating a social change through pushing the urban farming movement. The team is passionate about finding a solution to Singapore's food security and waste management challenges.
I co-founded Edible Garden City in 2012 as a social enterprise with the aim of getting as many Singaporeans as possible interested in growing their own food and thinking about food sustainability.
This was shortly after I had returned from London where I had been working. In my free time there, I cultivated my green fingers by working on organic farms in various parts of Europe and this helped me decide what I wanted to do next with my life.
On these farms, I was pleasantly surprised by the way the town folk of all ages seamlessly worked together. They had an incredible respect for their fresh produce and the land itself. It was heartening to see how their strong sense of community played a big role in their day-to-day lives.
This 'village aspect' formed the inspiration for Edible Garden City, and particularly our farm in Queenstown, where we hold workshops, and conduct volunteer sessions for like-minded individuals to learn about growing their own produce.
Eight years on, there is a fresh sense of urgency to growing our own food and to strengthening our food resilience as a nation.
In March 2019, the Singapore Government announced a "30 by 30" vision – to grow 30% of the country's nutritional needs by 2030, up from less 10% at the time.
Local farmers are ramping up their production to bolster food resilience in Singapore but individuals too can play a part as well to help reach the target set.
It begins with a change in mindset.
The supermarket may be the natural place to go to for most of us to satisfy our dietary needs, but it does not always need to be the case. Unbeknownst to many, there is a wide range of fruits and vegetables which can easily be grown at home.
They include fragrant mint, crisp lettuce and creamy eggplant which have no problem thriving in a tropical climate.
In growing our own produce, we also introduce a host of benefits to our overall well-being.
Benefits of gardening
Enjoying a wider spectrum of fresh fruits and vegetables means that we will likely be eating more nutrient-dense foods.
Produce bought from stores could have been harvested days or even months before landing in your cart. With each passing day since it came off the plant, fruits and vegetables lose more nutrients, water content and flavour. For example, if you've never had a fresh lady's finger, you might describe its texture as being fibrous and slimy. However, a fresh-off-the-plant okra is actually crunchy and nutty, with no slime at all.
Next, habitual gardening is thought to have immense physical, mental, and social benefits. A series of studies conducted by NParks and the National University of Singapore showed that seniors who are pre-disposed to or suffer from dementia showed improvements in cognitive ability when they engaged with regular gardening sessions and interacting with fellow gardeners.
Extensive anecdotal evidence supports mood boosts and better mental health among people of all ages, correlating with more time spent outdoors gardening.
Finally, growing our own food helps us to better understand how the food economy and environment are inextricably linked. We are more likely to develop a stronger desire to know what goes into our food, promoting cleaner commercial farming globally, and safer food for everyone.
Tips for new gardeners
The rule of (green) thumb here is that everyone can garden, no matter your age, background, or how 'green' you perceive your fingers to be.
Anyone who is interested in gardening should start by growing something they enjoy eating. That way, you'd be motivated to take good care of the plants. And even if you fail, don't be discouraged and keep growing.
It is a common misconception that you need to have ample space at home to grow edible plants. Having just one pot in your office and home will help you to hone your green fingers and let you harvest some fresh herbs or veggies.
Housing Board corridors or even window sills could be suitable for growing plants. Get creative when figuring out how to use the space; perhaps even make your own trellis for your climbing plants. Another way would be to join your community garden to make new friends and enjoy growing edible plants in the great outdoors.
If you are worried about the needs of your plant, a little research can go a long way. There are edible plants that can be grown in almost all light and space conditions that exist within a typical home.
For instance, microgreens are a great option for beginners. They are easy to grow, do not require much light, and harvestable in just two weeks. Otherwise, veggies like sweet potato leaves, cucumber and long beans, or even common varieties like mint, can be successfully grown at home too.
Some general tips are:
Be patient.
Get to know your plant, and watch for signs it will give you when it needs more or less water, nutrients and more.
Grow what you like to eat
Select suitable edible plants for the specific growing environment
Don't be afraid to ask for help
This article was contributed by Edible Garden City. The opinions expressed in this publication are those of the authors. They do not purport to reflect the opinions or views of Bank of Singapore Limited or its affiliates.

Disclaimer applicable to recommendation
IMPORTANT INFORMATION:
The contents of this presentation have not been prepared or reviewed by Bank of Singapore Limited (the "Bank"). The Bank is not responsible for the accuracy or completeness of the information contained in this presentation which may change without prior notice. If you have any questions regarding the presentation, please refer your questions to the presenter. This presentation may contain views which are not representative of the views of the Bank, and such views may have been derived without discussion, consultation or agreement with the Bank. You will need to decide as to whether or not the contents are suitable for you. When you are in doubt, please seek your own independent financial, legal, tax or other advice as you deem fit. Neither the Bank nor any of its officers accept any liability for any loss whatsoever arising out of or in connection with your use of the information in the presentation.

Cross-Border Marketing

Australia: Bank of Singapore Limited (i) is exempt from the requirement to hold an Australian financial services (AFS) licence under the Corporations Act 2001 (Cth) in respect of all financial products or financial services it provides in accordance with ASIC Class Order 03/1102 (as continued in force by ASIC Corporations (Repeal and Transitional) Instrument 2016/396) to any person in Australia who is a wholesale client, and (ii) is regulated by the Monetary Authority of Singapore under Singaporean laws which differ from Australian laws. Brunei: This document has not been delivered to, licensed or permitted by the Autoriti Monetari Brunei Darussalam, the authority as designated under the Brunei Darussalam Securities Markets Order, 2013 and the Banking Order, 2006; nor has it been registered with the Registrar of Companies, Registrar of International Business Companies or the Brunei Darussalam Ministry of Finance. The products mentioned in this document are not registered, licensed or permitted by the Autoriti Monetari Brunei Darussalam or by any other government agency or under any law in Brunei Darussalam. Any offers, acceptances, sales and allotments of the products shall be made outside Brunei Darussalam. Hong Kong SAR: Bank of Singapore Limited is an Authorized Institution as defined in the Banking Ordinance of Hong Kong (Cap 155), regulated by the Hong Kong Monetary Authority in Hong Kong and a Registered Institution as defined in the Securities and Futures Ordinance of Hong Kong (Cap. 571), regulated by the Securities and Futures Commission in Hong Kong. Indonesia: The offering of the investment product in reliance of this document is not registered under the Indonesian Capital Market Law and its implementing regulations, and is not intended to constitute a public offering of securities under the Indonesian Capital Market Law and its implementing regulations. According, this investment product may not be offered or sold, directly or indirectly, within Indonesia or to citizens (wherever they are domiciled or located), entities or residents, in any manner which constitutes a public offering of securities under the Indonesian Capital Market Law and its implementing regulations. Japan: The information contained in this document is for general reference purposes only. It does not have regard to your specific investment objectives, financial situation, risk tolerance and particular needs. Nothing in this document constitutes an offer to buy or sell or an invitation to offer to buy or sell or a recommendation or a solicitation to buy or sell any securities or investment. We do not have any intention of conducting regulated business in Japan. You acknowledge that nothing in this document constitutes investment or financial advice or any advice of any nature. Malaysia: Bank of Singapore Limited does not hold any licence, registration or approval to carry on any regulated business in Malaysia (including but not limited to any businesses regulated under the Capital Markets & Services Act 2007 of Malaysia), nor does it hold itself out as carrying on or purport to carry on any such business in Malaysia. Any services provided by Bank of Singapore Limited to residents of Malaysia are provided solely on an offshore basis from outside Malaysia, either as a result of "reverse enquiry" on the part of the Malaysian residents or where Bank of Singapore Limited has been retained outside Malaysia to provide such services. As an integral part of the provision of such services from outside Malaysia, Bank of Singapore Limited may from time to time make available to such residents documents and information making reference to capital markets products (for example, in connection with the provision of fund management or investment advisory services outside of Malaysia). Nothing in such documents or information is intended to be construed as or constitute the making available of, or an offer or invitation to subscribe for or purchase any such capital markets product. Myanmar: The provision of any products and services by Bank of Singapore Limited shall be solely on an offshore basis. You shall ensure that you have and will continue to be fully compliant with all applicable laws in Myanmar when entering into discussion or contracts with Bank of Singapore Limited. Oman: This document does not constitute a public offer of investment, securities or financial services in the Sultanate of Oman, as contemplated by the Commercial Companies Law of Oman (Royal Decree No. 4/1974), Banking Law of Oman (Royal Decree No. 114/2000) or the Capital Market Law of Oman (Royal Decree No. 80/1998) and the Executive Regulations of the Capital Market Law (Ministerial Decision No. 1/2009) or an offer to sell or the solicitation of any offer to buy non-Omani investment products, securities or financial services and products in the Sultanate of Oman. This document is strictly private and confidential. It is being provided to a limited number of sophisticated investors solely to enable them to decide whether or not to make an offer to invest in financial products mentioned in this document, outside of the Sultanate of Oman, upon the terms and subject to the restrictions set out herein and may not be reproduced or used for any other purpose or provided to any person other than the original recipient. Additionally, this document is not intended to lead to the making of any contract within the territory or under the laws of the Sultanate of Oman. The Capital Market Authority of Oman and the Central Bank of Oman take no responsibility for the accuracy of the statements and information contained in this document or for the performance of the financial products mentioned in this document nor shall they have any liability to any person for damage or loss resulting from reliance on any statement or information contained herein. Russia: The investment products mentioned in this document have not been registered with or approved by the local regulator of any country and are not publicly distributed in Singapore or elsewhere. This document does not constitute or form part of an offer or invitation to the public in any country to subscribe for the products referred to herein. South Korea: The document does not constitute an offer, solicitation or investment advertisement to trade in the investment product referred to in the document. The Philippines: The information contained in this document is not intended to constitute a public offering of securities under the Securities Regulation Code of the Philippines. Dubai International Financial Center (DIFC): Bank of Singapore Limited has a branch registered in the Dubai International Financial Centre ("DIFC") which is regulated by the Dubai Financial Services Authority ("DFSA"). Bank of Singapore Limited (DIFC Branch) is not a financial institution licensed in the United Arab Emirates outside of the DIFC and does not undertake banking or financial activities in the United Arab Emirates nor is it licensed to do so outside of the DIFC. This material is provided for information purposes only and it is general information not specific in any way to any particular investor, investor type, strategy, investment need or other financial circumstance. As such this information is not financial advice or a financial promotion, nor is it intended to influence an investor's decision to invest. It is not to be construed as an offer to buy or sell or solicitation of an offer to buy or sell any financial instruments or to participate in any particular trading strategy in any jurisdiction. The material is only intended for persons who fulfill the criteria to be classified as "Professional Clients" as defined under the DFSA rules and should not be reviewed, received, provided to or relied upon by any other person. United Arab Emirates (U.A.E): The information contained herein is exclusively addressed to the recipient. The offering of certain products in this document has not been and will not be registered with the Central Bank of United Arab Emirates or Securities & Commodities Authority in the United Arab Emirates. Any products in this document that are being offered or sold do not constitute a public offering or distribution of securities under the applicable laws and regulations of the United Arab Emirates. This document is not intended for circulation or distribution in or into the UAE, other than to persons in the UAE to whom such circulation or distribution is permitted by, or is exempt from the requirements of, the applicable laws and regulations of the United Arab Emirates. The distribution of the information contained herein by the recipient is prohibited. Where applicable, this document relates to securities which are listed outside of the Abu Dhabi Securities Exchange and the Dubai Financial Market. The Bank of Singapore Limited is not authorized to provide investment research regarding securities listed on the exchanges of the United Arab Emirates which are outside of the DIFC. United Kingdom: In the United Kingdom, this document is being made available only to the person or the entity to whom it is directed being persons to whom it may lawfully be directed under applicable laws and regulations of the United Kingdom (such persons are hereinafter referred to as 'relevant persons'). Accordingly, this document is communicated only to relevant persons. Persons who are not relevant persons must not act on or rely on this document or any of its contents. Any investment or investment activity to which this document relates is available only to relevant persons and will be engaged in only with relevant persons. Relevant persons in receipt of this document must not distribute, publish, reproduce, or disclose this document (in whole or in part) to any person who is not a relevant person. United States of America: This product may not be sold or offered within the United States or to U.S. persons. In Hong Kong, Bank of Singapore Limited is a branch of Bank of Singapore Limited incorporated in Singapore with limited liability.
© 2019 Bank of Singapore Limited. All rights reserved.
Version: December 2019