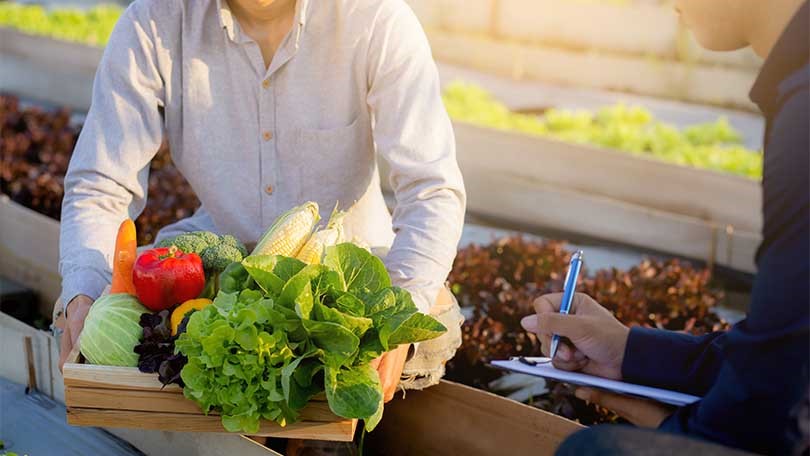 As the globe grapples to adapt to a post-covid world, Southeast Asia's hospitality players are shifting gear to cater to the predicted change in demand. Buffets are being banished and menus trimmed, paving the way for farm-to-table offerings to emerge as a fashionable choice for the region's conscientious diners.
Farm-to-table tourism is where hotels and restaurants connect with local farmers or grow produce on their property to provide guests with fresh and locally produced ingredients, while supporting neighbouring agricultural communities. Activities include cooking classes, helping farmers in the fields and munching on meals with ingredients sourced from a just few kilometres away.
Future Markets Insight has predicted that agritourism, which includes farm-to-table initiatives, will generate US$622 billion by 2029.
"The appeal is in the comfort of knowing where your food comes from and understanding it's better for both the planet and yourself," says Drew Anderson, director of Singapore-based Topo Studio Design. "Covid has shocked us all but delivered the planet a big favour; a reset that perhaps it always needed."
In the wake of coronavirus, people have become more aware of the environment, their local communities and new buzzwords, health and hygiene. And it is these elements that will drive choices as the world starts to emerge from pandemic-induced lockdown.
"Farm-to-table promotes exactly this and delivers a fresh, healthier and tastier food experience," adds Anderson. "Travellers can have comfort in knowing where their food came from and are often given a chance to engage with the farm experience."
While the farm-to-table movement had been gaining momentum ahead of the coronavirus outbreak, experts predict its popularity will accelerate – good news for both the environment and Southeast Asia's often impoverished farmers.
"In the past five years, there has been a lot of interest in eco, wellness, agri and adventure tourism," says Christopher Lund, head of hotels at Colliers International, a global real estate and investment management company.
He predicts post-Covid, tourism players will focus on these niches, which conform with the social distancing measures that have become part of the new norm. And farm-to-table offerings sit firmly within the agritourism sector that Lund says will explode.
"We were perhaps expecting these areas to boom within the next five to 10 years," he adds. "Coronavirus will drastically accelerate that rate."
With Southeast Asia's agricultural sector strong, many players are tapping into the region's huge potential for farm-to-table offerings.
At its forefront sits Phu Chaisai, a mountain getaway in Thailand's rural Chiang Rai that championed the farm-to-table movement ahead of its time. The 800-acre resort was created 20 years ago by leading Thai interior designer Sudavdee Kriangkrai.
After growing tired of Bangkok's high society life, Sudavdee fell in love with Doi Mae Salong Mountains' pristine nature, fresh air and verdant valley vistas. So she created an exclusive 32-room eco-resort from bamboo and mud where urban dwellers can escape the city, reconnect with nature and truly experience rural life.
The sprawling site is home to farms growing a range of ingredients used in the kitchen, 200 free-range hens, extensive fish ponds, fruit and tea plantations and honey harvesting facilities.
"Farms have always formed a big part of what the resort does and the guest experience," says Jason Friedman, Phu Chaisai managing partner and founder of hospitality consulting firm, JM Friedman and Co.
He adds produce is grown for the resort, with the remaining used in the staff canteen. Additional surplus is sold at the local market. Hill tribes living in the area are also encouraged to forage on the property.
"Twenty years ago, it was really cool for guests to get tomatoes flown in from New Zealand," adds Friedman, who has worked with hotels across the region for 25 years. "Travellers, especially luxury, don't care about that any more. It matters to know their tomatoes came from the property or farm next door rather than off a plane."
The plant-to-plate push coupled with the chance for guests to get their hands dirty are elements that have taken the forefront in recent projects across the region. Since welcoming guests in November 2018, Bensley Collection – Shinta Mani Wild has positioned food as a prime guest experience.
The luxury tented camp, set in an 800-acre private nature sanctuary within Cambodia's Botum Sakor National Park, curates its menu around ingredients sourced from nearby farms. It has also created a foraging programme where guests accompany on-site naturalists and chefs scouring the rainforest for fresh ingredients to be cooked in the kitchen.
During the resort's Covid-19 closure, it has upped its game and created a sustainable farm. This includes free range chickens, and a range of vegetables and herbs. Friedman, who worked on the project, says this combined with its foraging programme and working with local farmers will appeal to the new appetite for farm-to-table experiences.
In addition, the aim is these efforts will provide enough produce for the resort's kitchen and staff village, which serves 300 meals a day to employees.
In Siem Reap, Shinta Mani Hotels, which has three properties in the town, has drawn up plans to build a permaculture garden to supply its restaurants. As part of the site, award-winning designer Bill Bensley has also created an on-site sala that will double up as a cooking school and event space.
"We've found a way to make the organic farm one of main events of the hotel," says Friedman.
Thailand-based, two Michelin-star chef James Noble is also championing the movement with his latest innovative project, ORI9IN. Noble left the kitchen for the fields to found organic farm, The Boutique Farmers in Thailand's Hua Hin to counteract the huge food waste and environmental impact he saw in kitchens.
"We [chefs] didn't really care where ingredients came from because we could mark it up accordingly on the menu," he says. "If you wanted a specific ingredient from Brazil, then we would import a specific ingredient from Brazil. That had to change."
In October, ORI9IN – a joint venture between Noble and Singapore-based hospitality group Banyan Tree Hotels & Resorts – is slated to open as Thailand's first gourmet organic farm. The expansive 142 hectares of land aims to shake up the country's hospitality industry by providing restaurants and hotels with plots of land to rent. Farmers will then be recruited to grow and cultivate specified ingredients.
The vast grounds take in a range of climates, from mountainous to low land, and differing soil types. A variety of controlled growing environments dot the area, with hydroponics and traditional methods of farming also used. This means produce from across the globe can be cultivated. "This can completely cut out air miles," says Noble.
"In theory, they can have their own farm without getting themselves dirty, sweaty, hot and bothered, which we do on a daily basis," he adds. "This enables chefs to grow specific products for their specific outlets, whether a Michelin Star restaurant in Bangkok or street food vendor."
ORI9IN is also tapping into the agritourism trend. The site will feature a sprawling 32 hectares of maize mazes where visitors can get lost while interacting with their environment. Harvested corn is given to local communities to sell, with the remainder fed to their cattle.
Its restaurant, Waiting For May, also pledges a menu made entirely from ingredients from within a 30km radius.
"Especially in today's society, people need to see where things come from," says Noble. "They need to get dirt between their toes and understand how hard it is to be a farmer. Agritourism does that."
Anderson says in the last decade, Topo has designed more than 100 hotel projects worldwide. Of those, at least 50 percent have involved edible gardens, chef gardens and holistic farm-to-table concepts.
One of its latest projects is South Farm in Pagalo, a small island connected to Bohol in the Philippines, which puts agritourism at its heart. The educational organic farm was slated to open earlier this year as a visitor attraction. However, plans were pushed back until the country eases restrictions.
It features a series of organic farms and animals, while old farm machines have been upcycled and turned into fun children's playparks. To celebrate the island's agricultural and artisanal roots, the farm also employs local artisans to craft pottery and weaving. A goat breeding programme will, with the help of locals, produce cheese and milk.
Food grown onsite will supply the farm's sister resorts on the island, with guests able to enjoy an interactive day on the farm.
"Agritourism helps hotel and resorts engage with local enterprise and encourages supporting local communities," says Anderson. "The abundance of agriculture that exists in Asia and the skillset mean finding the right people to help develop farm-to-table is not hard."
With the seeds already sown, Southeast Asia looks slated to enjoy a fruitful farm-to-table future. "Its foundation has been set," Anderson adds. "Covid has helped highlight the need and desire for fresh and healthy produce with a known lifecycle of production that we can feel comfort in."
This article was first published by Eco-Business on July 8,2020. The opinions expressed in this publication are those of the authors. They do not purport to reflect the opinions or views of Bank of Singapore Limited or its affiliates.
Disclaimer applicable to recommendation
IMPORTANT INFORMATION:
The contents of this article have not been prepared or reviewed by Bank of Singapore Limited (the "Bank"). The Bank is not responsible for the accuracy or completeness of the information contained in this article which may change without prior notice. This article may contain views which are not representative of the views of the Bank, and such views may have been derived without discussion, consultation or agreement with the Bank. You will need to decide as to whether or not the contents are suitable for you. When you are in doubt, please seek your own independent financial, legal, tax or other advice as you deem fit. Neither the Bank nor any of its officers accept any liability for any loss whatsoever arising out of or in connection with your use of the information in the article.

Cross-Border Marketing

Australia: Bank of Singapore Limited (i) is exempt from the requirement to hold an Australian financial services (AFS) licence under the Corporations Act 2001 (Cth) in respect of all financial products or financial services it provides in accordance with ASIC Class Order 03/1102 (as continued in force by ASIC Corporations (Repeal and Transitional) Instrument 2016/396) to any person in Australia who is a wholesale client, and (ii) is regulated by the Monetary Authority of Singapore under Singaporean laws which differ from Australian laws. Brunei: This document has not been delivered to, licensed or permitted by the Autoriti Monetari Brunei Darussalam, the authority as designated under the Brunei Darussalam Securities Markets Order, 2013 and the Banking Order, 2006; nor has it been registered with the Registrar of Companies, Registrar of International Business Companies or the Brunei Darussalam Ministry of Finance. The products mentioned in this document are not registered, licensed or permitted by the Autoriti Monetari Brunei Darussalam or by any other government agency or under any law in Brunei Darussalam. Any offers, acceptances, sales and allotments of the products shall be made outside Brunei Darussalam. Hong Kong SAR: Bank of Singapore Limited is an Authorized Institution as defined in the Banking Ordinance of Hong Kong (Cap 155), regulated by the Hong Kong Monetary Authority in Hong Kong and a Registered Institution as defined in the Securities and Futures Ordinance of Hong Kong (Cap. 571), regulated by the Securities and Futures Commission in Hong Kong. Indonesia: The offering of the investment product in reliance of this document is not registered under the Indonesian Capital Market Law and its implementing regulations, and is not intended to constitute a public offering of securities under the Indonesian Capital Market Law and its implementing regulations. According, this investment product may not be offered or sold, directly or indirectly, within Indonesia or to citizens (wherever they are domiciled or located), entities or residents, in any manner which constitutes a public offering of securities under the Indonesian Capital Market Law and its implementing regulations. Malaysia: Bank of Singapore Limited does not hold any licence, registration or approval to carry on any regulated business in Malaysia (including but not limited to any businesses regulated under the Capital Markets & Services Act 2007 of Malaysia), nor does it hold itself out as carrying on or purport to carry on any such business in Malaysia. Any services provided by Bank of Singapore Limited to residents of Malaysia are provided solely on an offshore basis from outside Malaysia, either as a result of "reverse enquiry" on the part of the Malaysian residents or where Bank of Singapore Limited has been retained outside Malaysia to provide such services. As an integral part of the provision of such services from outside Malaysia, Bank of Singapore Limited may from time to time make available to such residents documents and information making reference to capital markets products (for example, in connection with the provision of fund management or investment advisory services outside of Malaysia). Nothing in such documents or information is intended to be construed as or constitute the making available of, or an offer or invitation to subscribe for or purchase any such capital markets product. Myanmar: The provision of any products and services by Bank of Singapore Limited shall be solely on an offshore basis. You shall ensure that you have and will continue to be fully compliant with all applicable laws in Myanmar when entering into discussion or contracts with Bank of Singapore Limited. Oman: This document does not constitute a public offer of investment, securities or financial services in the Sultanate of Oman, as contemplated by the Commercial Companies Law of Oman (Royal Decree No. 18/2019), Banking Law of Oman (Royal Decree No. 114/2000) or the Capital Market Law of Oman (Royal Decree No. 80/1998) and the Executive Regulations of the Capital Market Law (Ministerial Decision No. 1/2009) or an offer to sell or the solicitation of any offer to buy non-Omani investment products, securities or financial services and products in the Sultanate of Oman. This document is strictly private and confidential. It is being provided to a limited number of sophisticated investors solely to enable them to decide whether or not to make an offer to invest in financial products mentioned in this document, outside of the Sultanate of Oman, upon the terms and subject to the restrictions set out herein and may not be reproduced or used for any other purpose or provided to any person other than the original recipient. Additionally, this document is not intended to lead to the making of any contract within the territory or under the laws of the Sultanate of Oman. The Capital Market Authority of Oman and the Central Bank of Oman take no responsibility for the accuracy of the statements and information contained in this document or for the performance of the financial products mentioned in this document nor shall they have any liability to any person for damage or loss resulting from reliance on any statement or information contained herein Russia: The investment products mentioned in this document have not been registered with or approved by the local regulator of any country and are not publicly distributed in Singapore or elsewhere. This document does not constitute or form part of an offer or invitation to the public in any country to subscribe for the products referred to herein. Saudi Arabia: The Bank has not received authorization or licensing from the Saudi Arabian Monetary Agency or any other governmental authority in the Kingdom of Saudi Arabia to carry on banking business within the Kingdom of Saudi Arabia and the Bank does not hold itself out as carrying on, and does not carry on banking business. South Korea: The document does not constitute an offer, solicitation or investment advertisement to trade in the investment product referred to in the document. The Philippines: The information contained in this document is not intended to constitute a public offering of securities under the Securities Regulation Code of the Philippines. Dubai International Financial Center (DIFC): Bank of Singapore Limited has a branch registered in the Dubai International Financial Centre ("DIFC") which is regulated by the Dubai Financial Services Authority ("DFSA"). Bank of Singapore Limited (DIFC Branch) is not a financial institution licensed in the United Arab Emirates outside of the DIFC and does not undertake banking or financial activities in the United Arab Emirates nor is it licensed to do so outside of the DIFC. This material is provided for information purposes only and it is general information not specific in any way to any particular investor, investor type, strategy, investment need or other financial circumstance. As such this information is not financial advice or a financial promotion, nor is it intended to influence an investor's decision to invest. It is not to be construed as an offer to buy or sell or solicitation of an offer to buy or sell any financial instruments or to participate in any particular trading strategy in any jurisdiction. The material is only intended for persons who fulfill the criteria to be classified as "Professional Clients" as defined under the DFSA rules and should not be reviewed, received, provided to or relied upon by any other person. United Arab Emirates (U.A.E): The information contained herein is exclusively addressed to the recipient. The offering of certain products in this document has not been and will not be registered with the Central Bank of United Arab Emirates or Securities & Commodities Authority in the United Arab Emirates. Any products in this document that are being offered or sold do not constitute a public offering or distribution of securities under the applicable laws and regulations of the United Arab Emirates. This document is not intended for circulation or distribution in or into the UAE, other than to persons in the UAE to whom such circulation or distribution is permitted by, or is exempt from the requirements of, the applicable laws and regulations of the United Arab Emirates. The distribution of the information contained herein by the recipient is prohibited. Where applicable, this document relates to securities which are listed outside of the Abu Dhabi Securities Exchange and the Dubai Financial Market. The Bank of Singapore Limited is not authorized to provide investment research regarding securities listed on the exchanges of the United Arab Emirates which are outside of the DIFC. United Kingdom: In the United Kingdom, this document is being made available only to the person or the entity to whom it is directed being persons to whom it may lawfully be directed under applicable laws and regulations of the United Kingdom (such persons are hereinafter referred to as 'relevant persons'). Accordingly, this document is communicated only to relevant persons. Persons who are not relevant persons must not act on or rely on this document or any of its contents. Any investment or investment activity to which this document relates is available only to relevant persons and will be engaged in only with relevant persons. Relevant persons in receipt of this document must not distribute, publish, reproduce, or disclose this document (in whole or in part) to any person who is not a relevant person. United States of America: This product may not be sold or offered within the United States or to U.S. persons.

In Hong Kong, Bank of Singapore Limited is a branch of Bank of Singapore Limited incorporated in Singapore with limited liability.
© 2020 Bank of Singapore Limited. All rights reserved.
Version: July 2020