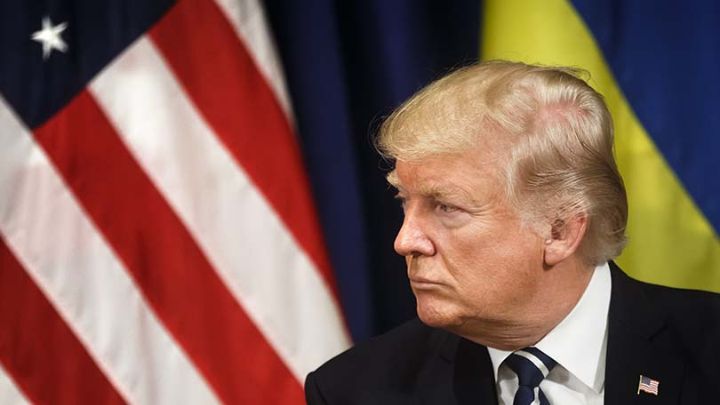 Highlights
No Fed policy impact from Trump criticism
Rates hike set to continue
Cheap talk won't drive USD
The USD has come off recent highs, apparently in response to President Trump complaining about Fed rate hikes and accusing other countries of manipulating their currencies. This raises the question of whether there is much that he can do to affect Fed policy or to drive the exchange rate lower. We are dubious.
Markets had a taste of this in late January when Treasury Secretary Mnuchin was seen to be trying to talk the currency lower, noting the weaker dollar was good for trade. USD showed brief concern, but it has strengthened about 7% since then, with no policies to back up Mnuchin's comments.
Similarly, Trump might prefer low interest rates, but he has no practical means of affecting policy decisions, either directly or via appointments to the Fed board. An obviously political nomination would have little chance of securing Congressional approval – even credible candidates often struggle.
In fact, Trump's nominations have been uncontroversial and show no attempt to politicise the Fed. The root of his criticism might simply be an insurance policy – he is looking for somebody to blame if growth fades before the next presidential election.
Another Fed rate hike at the late-September FOMC looks like a done deal and the minutes from the latest meeting give no hint of a break from the recent path of a hike each quarter. The analytical and decision-making structures of the Fed should be resistant to political influence.
The policy outlook for next year contains the usual uncertainties. Note that the Fed is shifting to holding a press conference after every meeting, which is seen as making each one "live" and so easier to shift from the once-per quarter pace. Rising inflation could lead to pressure for a faster pace of tightening, or growth disappointments could lead to a pause, but for the moment the Fed seems comfortable with the current path.
In terms of currency manipulation, developed economies are not intervening directly and can hide behind the defence that any exchange rate weakness is just a consequence of monetary policy. Even China can argue that CNH weakness would be more pronounced if it were not intervening to tighten controls on capital outflows, so any manipulation is producing a stronger, not weaker, currency.
Import tariffs should theoretically send an exchange rate higher, so perhaps Trump himself is the main currency manipulator. Of course the US could intervene directly in currency markets by using its Exchange Stabilisation Fund to sell USD, but history shows that such unilateral action tends to be ineffective.
Talk is cheap, but its impact is limited. We suspect that we are approaching peak policy divergence, which will be one of the limitations to stronger USD.
Trump's legal and political troubles might make for entertaining television, but they seem unlikely to have a significant impact on policy. Tax reform is done and the president has the authority to drive trade policy, while there are no other big items on the economic agenda. At some point Congress will need to act (and cooperate with Trump) if it wants to prevent a material fiscal tightening in 2020 as the recent boost fades, but it seems too early to try to assess the related political dynamics.
In conclusion, we think that the Fed and the USD will respond to economic fundamentals and not to political jawboning. This points to more Fed rate hikes, but also eventually a softer USD as it is weighed down by the twin deficits and as more developed economies join the policy tightening cycle.
Disclaimer applicable to recommendation
This document, prepared by Bank of Singapore Limited (Co Reg. No.: 197700866R) (the "Bank"), is for information purposes only and is not, by itself, intended for anyone other than the recipient. It is not an offer or a solicitation to deal in any of the investment products referred to herein or to enter into any legal relations, nor an advice or by itself a recommendation with respect to such investment products. It does not have regard to the specific investment objectives, investment experience, financial situation and the particular needs of any recipient or customer. Customers should exercise caution in relation to the investment. Customers should independently evaluate each investment product and consider the suitability of such investment product, taking into account customer's own specific investment objectives, investment experience, financial situation and/or particular needs. If a customer is in doubt about the contents of this document and/or the suitability of any investment products mentioned in this document for the customer, the customer should to obtain independent financial, legal and/or tax advice from its professional advisers as necessary, before dealing in any investment products mentioned in this document.


This document and other related documents have not been reviewed by, registered or lodged as a prospectus, information memorandum or profile statement with the Monetary Authority of Singapore nor any regulator in Hong Kong or elsewhere.


This document may not be published, circulated, reproduced or distributed in whole or in part to any other person without the Bank's prior written consent. This document is not intended for distribution to, publication or use by any person in any jurisdiction outside Singapore, Hong Kong, or such other jurisdiction as the Bank may determine in its absolute discretion, where such distribution, publication or use would be contrary to applicable law or would subject the Bank and its related corporations, connected persons, associated persons and/or affiliates (collectively, "Affiliates") to any registration, licensing or other requirements within such jurisdiction.


Investments in financial instruments or other products carry significant risk, including the possible loss of the principal amount invested. Financial instruments or other products denominated in a foreign currency are subject to exchange rate fluctuations, which may have an adverse effect on the price or value of an investment in such products. No liability is accepted by the Bank for any loss (whether direct, indirect or consequential) that may arise from any use of the information contained in or derived from this document. Past performance is not a guarantee or indication of future results. Any prices provided in this document (other than those that are identified as being historical) are indicative only and do not represent firm quotes as to either price or size. You should contact your local representative directly if you are interested in buying or selling any financial instrument or other product or pursuing any trading strategy that may be mentioned in this document.


While reasonable efforts have been made to ensure that the contents of this document have been obtained or derived from sources believed by the Bank and its Affiliates to be reliable, neither the Bank nor its Affiliates has independently verified the accuracy of such source(s). The Bank and its Affiliates and their respective officers, employees, agents and representatives do not make any express or implied representations, warranties or guarantees as to the accuracy, timeliness or completeness of the information, data or prevailing state of affairs that are mentioned in this document and do not accept any liability for any loss or damage whatsoever, direct or indirect, arising from or in connection with the use of the contents of this document.


The Bank and its Affiliates may have issued other reports, analyses, or other documents expressing views different from the contents hereof and all views expressed in all reports, analyses and documents are subject to change without notice. The Bank and its Affiliates reserve the right to act upon or use the contents hereof at any time, including before its publication herein.


The author of this document may have discussed the information contained therein with others within or outside the Bank and the author and/or such other Bank personnel may have already acted on the basis of this information (including communicating the information contained herein to other customers of the Bank). The Bank, its personnel (including those with whom the author may have consulted in the preparation of this communication), and other customers of the Bank may be long or short the financial instruments or other products referred to in this document, may have acquired such positions at prices and market conditions that are no longer available, and may have interests different from or adverse to your interests.


Bank of Singapore Limited is a licensed bank regulated by the Monetary Authority of Singapore in Singapore, an Authorized Institution as defined in the Banking Ordinance of Hong Kong (Cap 155), regulated by the Hong Kong Monetary Authority in Hong Kong and a Registered Institution as defined in the Securities and Futures Ordinance of Hong Kong (Cap.571) regulated by the Securities and Futures Commission in Hong Kong. Bank of Singapore Limited, its employees and discretionary accounts managed by its Singapore Office may have long or short positions or may be otherwise interested in any of the investment products (including derivatives thereof) referred to in this document and may from time to time dispose of any such investment products. Bank of Singapore Limited forms part of the OCBC Group (being for this purpose Oversea-Chinese Banking Corporation Limited and its subsidiaries, related and affiliated companies). OCBC Group, their respective directors and/or employees (collectively "Related Persons") may or might have in the future interests in the investment products or the issuers mentioned herein. Such interests include effecting transactions in such investment products, and providing broking, investment banking and other financial services to such issuers. OCBC Group and its Related Persons may also be related to, and receive fees from, providers of such investment products.


Bank of Singapore Limited adheres to a group policy (as revised and updated from time to time) that provides how entities in the OCBC Group manage or eliminate any actual or potential conflicts of interest which may impact the impartiality of research reports issued by any research analyst in the OCBC Group.


Past performance is not always indicative of likely or future performance. The value of any investment or income may go down as well as up. All investments involve an element of risk, including capital loss. Customers who are interested to invest in such investment products should read the risk disclosures and governing terms and conditions that are set out in the relevant offering documents.


These materials are prepared solely for distribution into jurisdictions where such distribution is permitted by law. These materials are for the internal use of the intended recipients only and may contain information proprietary to the Bank which may not be reproduced or redistributed in whole or in part without the Bank's prior consent.


Dual currency investments, structured deposits and other investment products are not insured by the Singapore Deposit Insurance Corporation.