Singapore is stepping up its momentum in using data analytics, artificial intelligence (AI) and sensors to make lives easier, safer and smarter.
And the impact is being felt in everything from the fight to contain the Covid-19 outbreak to security to water conservancy and even food safety.
The latest initiatives follow the launch of the National AI Strategy by Deputy Prime Minister and Minister for Finance Heng Swee Keat at the Singapore FinTech Festival last November.
The strategy maps out how Singapore will develop and deploy AI solutions to transform the economy and improve lives.
The National AI Strategy focuses on five key areas — healthcare, security, smart estates, education and logistics — and is led by the National AI Office, a unit created under the Smart Nation and Digital Government Office.
This year, the Government will invest over $710 million in infocomm technology projects that involve the use of data analytics, AI and sensors to deliver better government services.
Some of the areas where results are already beginning to show in real time are in:
Using AI and robots in the fight against Covid-19
Using analysis for better Covid-19 contact tracing
Using smart robots for patrol and surveillance
Using smart sensors and meters to save water
Using data analytics for tourism insights
VigilantGantry on guard against Covid-19
A recent example of using AI-powered video analytics is VigilantGantry, which automatically screens temperatures of individuals passing through a gantry or entrance with a regular video camera and thermal scanner.
The software can detect and screen the temperatures of those wearing caps or items that cover their foreheads. VigilantGantry can also be integrated with existing infrastructure such as gated entrances.
Another key feature: Its thermal scanner is designed to be modular so that industries from the private sector can easily incorporate the technology and open-source software into existing infrastructure, such as gated entrances of venues.
Developed by the Government Technology Agency (GovTech), VigilantGantry was tested at the National University of Singapore before being piloted at Changi Exhibition Centre.
The exhibition centre had, on April 25, been repurposed into an integrated community care and recovery facility for recovering or mildly symptomatic Covid-19 patients.
VigilantGantry will soon be set up at more public places, large-scale events and at government buildings.
SPOTON for hot spots
GovTech also developed SPOTON, a mass temperature screening solution for venues with little infrastructure support.
SPOTON can screen the temperatures of up to 10 people at once. It was first tested at NTUC Club's Downtown East and has been deployed at several buildings, including the Supreme Court and Parliament House.
The Islamic Religious Council of Singapore (Muis), Housing and Development Board and JTC Corporation have also used SPOTON for their operations.
With GovTech's plans to license SPOTON's software, companies from the private sector will soon be able to include the proprietary software in their existing thermal scanning solutions.
Spot adds bite to Covid-19 fight
When it comes to stemming the Covid-19 pandemic, a yellow and black robot dog has been raising eyebrows at Bishan-Ang Mo Kio Park.
The robot named Spot first stepped foot in the park in May. Its job was to patrol and politely remind park-goers to observe a safe distance of at least 1m apart.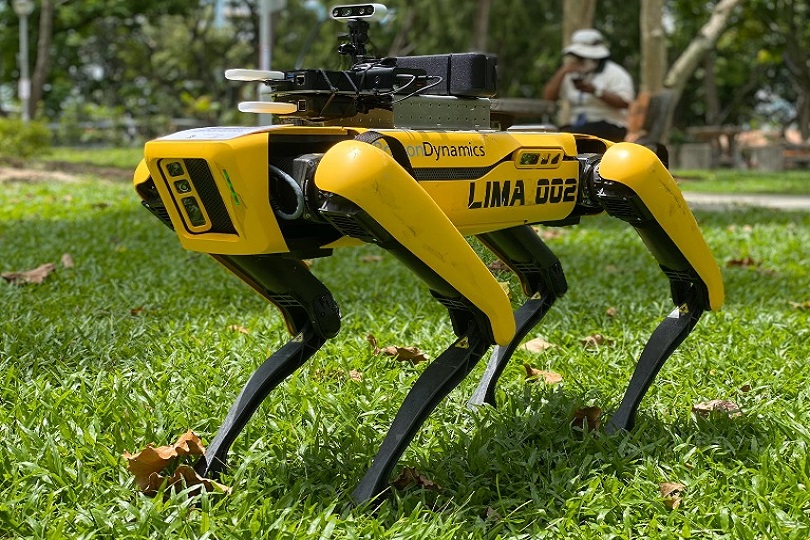 GovTech enhanced the four-legged robot dog Spot with features such as remote control, 3D-mapping and semi-autonomous operations. PHOTO: GOVTECH
Part of a two-week trial by the National Parks Board and Smart Nation and Digital Government Group, Spot is one of many technology-based innovations that has helped to ease the strain on manpower during the Covid-19 pandemic.
The robodog, which was originally developed by American company Boston Dynamics, is more than a loudhailer on four legs. GovTech further enhanced Spot with features such as remote control, 3D-mapping and semi-autonomous operations.
Unlike wheeled robots, Spot works well across different terrains and can navigate obstacles, making it ideal for use in public parks and gardens. The robodog can also carry up to 15kg worth of sensors and payload.
GovTech is now working with various government agencies to develop new capabilities and explore other uses for Spot, such as carrying out hazardous inspection works.
Analysis tool assists contact tracing
The Defence Science and Technology Agency (DSTA) has developed a network analysis tool to help make the Singapore Armed Forces' contact tracing efforts more effective.
The network analysis tool, which was first tested in early April, uses information compiled by contact tracing centres to create a visual network representation of confirmed coronavirus cases with data analytics.
The coronavirus clusters at night club Ce La Vi, Black Tap at Marina Bay Sands and Mustafa Centre were identified with the help of DSTA's network analysis tool.
O-R3 on watch at reservoirs
For PUB's reservoirs, there is O-R3. Developed by local technology company Otsaw, outdoor security robot O-R3 was originally part of a pilot trial by PUB to enhance monitoring and surveillance operations at its plants and reservoirs.
The robot, which was first tested in May last year at Bedok Reservoir, features a 360-degree camera and sensors that record and process data for PUB officers.
By end-April, O-R3 had been used to patrol and broadcast safe distancing messages to visitors of Bedok Reservoir and Pandan Reservoir.
Matar moves and sees all
Spot and O-R3 are not the only smart robots on patrol duty in Singapore.
The Singapore Police Force's (SPF) Multi-purpose All Terrain Autonomous Robot, or Matar, moves about autonomously and provides Police Command Centres with real-time surveillance via a 360-degree video feed.
Jointly developed by the SPF and the Home Team Science and Technology Agency (HTX), in partnership with ST Engineering and the Agency for Science, Technology and Research, Matar is designed to operate at places with high human traffic as it is able to navigate stationary and dynamic obstacles along its patrol route.
It has been used as part of the police's patrol and security surveillance efforts at large-scale events such as the National Day Parade, Marina Bay Countdown and the Chingay Parade.
Like Spot, Matar has audio communication functions for relaying messages on safe distancing measures.
"The robots can patrol and navigate without anyone using a remote control or guarding it," said Mr Ong Ka Hing, deputy director of HTX's Robotics, Automation & Unmanned Systems.
"This minimises the need for front-line officers to get in close contact with others, providing some protection against infection for officers at the isolation facility."
Mr Ong was part of the team that built Matar from scratch and served as the technical advisor of its deployment during the Covid-19 period.
He added that such technological advancements are meaningful as they protect lives.
Smart meters to save water
PUB will be rolling out smart water meters across the country in phases from 2021.
Similar to fitness trackers, smart water meters allow residents and businesses to track important data in real time and receive updates.
Users can track in real time their water usage via an online customer portal, and be alerted about high water consumption and potential leaks.
Early smart water meter trials in 800 households in Punggol and Yuhua in 2016 and 2018 respectively have shown positive results. Households reported water savings of up to 5 per cent from being alerted to leaks and from adopting water-saving habits.
Mr Ridzuan Ismail, PUB's director of Water Supply (Network), said: "The smart water meter is a prime example of how we can leverage technology to significantly improve our productivity as we do away with manual meter reads."
PUB's smart water meters are part of GovTech's Smart Nation Sensor Platform (SNSP), a Smart Nation strategic national project.
SNSP provides whole-of-government products and services for collecting, sharing and analysing sensor data, and managing Internet of Things and robotics systems.
With real-time sensor data, SNSP is able to unlock insights for government agencies, the private sector and citizens to make data-driven decisions that improve the quality of life.
The SNSP has also supported traffic planning and operations with the Lamppost-as-a-Platform (LaaP) project, effectively turning street lamp posts into a network of wireless sensors.
Now on trial at one-north and Geylang, selected lamp posts are fitted with cameras and sensors to collect data on the environment, monitor the use of personal mobility devices in public spaces, and carry out crowd analytics for urban, event and transport planning.
OTHER INNOVATIONS
Insights on tourism
The Singapore Tourism Board (STB) has started transforming the industry with a central data analytics platform known as the Singapore Tourism Analytics Network, or Stan.
The tool provides tourism-related businesses and stakeholders with tourism statistics and data-driven actionable insights, to aid them in business planning and strategy.
Capability building programmes and training courses on data analytics will be made available to help companies build their capabilities in data analytics to meet their business needs.
Getting smarter about food safety
The use of smart technology to enhance food safety will be explored at the Singapore Food Agency's (SFA) new Food Safety Experimentation Laboratory, which is targeted to be up and running by 2021.
Among other possibilities, the lab may use augmented and virtual reality to simulate import and inspection processes and experiment with web-connected devices on food appliances to ensure appropriate temperatures for food.
Video analytics systems may also be developed and tested to automatically flag potential issues during food preparation from food establishments' closed-circuit television footage.
SFA is also exploring the use of rapid diagnostic tools to quickly detect food-borne pathogens in food establishments. These systems will work in tandem to flag food safety issues before food reaches our plates.
This article was first published by Government Technology Agency of Singapore on July 1, 2020. The opinions expressed in this publication are those of the authors. They do not purport to reflect the opinions or views of Bank of Singapore or its affiliates.
Disclaimer applicable to recommendation
IMPORTANT INFORMATION:
The contents of this article have not been prepared or reviewed by Bank of Singapore Limited (the "Bank"). The Bank is not responsible for the accuracy or completeness of the information contained in this article which may change without prior notice. This article may contain views which are not representative of the views of the Bank, and such views may have been derived without discussion, consultation or agreement with the Bank. You will need to decide as to whether or not the contents are suitable for you. When you are in doubt, please seek your own independent financial, legal, tax or other advice as you deem fit. Neither the Bank nor any of its officers accept any liability for any loss whatsoever arising out of or in connection with your use of the information in the article.

Cross-Border Marketing

Australia: Bank of Singapore Limited (i) is exempt from the requirement to hold an Australian financial services (AFS) licence under the Corporations Act 2001 (Cth) in respect of all financial products or financial services it provides in accordance with ASIC Class Order 03/1102 (as continued in force by ASIC Corporations (Repeal and Transitional) Instrument 2016/396) to any person in Australia who is a wholesale client, and (ii) is regulated by the Monetary Authority of Singapore under Singaporean laws which differ from Australian laws. Brunei: This document has not been delivered to, licensed or permitted by the Autoriti Monetari Brunei Darussalam, the authority as designated under the Brunei Darussalam Securities Markets Order, 2013 and the Banking Order, 2006; nor has it been registered with the Registrar of Companies, Registrar of International Business Companies or the Brunei Darussalam Ministry of Finance. The products mentioned in this document are not registered, licensed or permitted by the Autoriti Monetari Brunei Darussalam or by any other government agency or under any law in Brunei Darussalam. Any offers, acceptances, sales and allotments of the products shall be made outside Brunei Darussalam. Hong Kong SAR: Bank of Singapore Limited is an Authorized Institution as defined in the Banking Ordinance of Hong Kong (Cap 155), regulated by the Hong Kong Monetary Authority in Hong Kong and a Registered Institution as defined in the Securities and Futures Ordinance of Hong Kong (Cap. 571), regulated by the Securities and Futures Commission in Hong Kong. Indonesia: The offering of the investment product in reliance of this document is not registered under the Indonesian Capital Market Law and its implementing regulations, and is not intended to constitute a public offering of securities under the Indonesian Capital Market Law and its implementing regulations. According, this investment product may not be offered or sold, directly or indirectly, within Indonesia or to citizens (wherever they are domiciled or located), entities or residents, in any manner which constitutes a public offering of securities under the Indonesian Capital Market Law and its implementing regulations. Malaysia: Bank of Singapore Limited does not hold any licence, registration or approval to carry on any regulated business in Malaysia (including but not limited to any businesses regulated under the Capital Markets & Services Act 2007 of Malaysia), nor does it hold itself out as carrying on or purport to carry on any such business in Malaysia. Any services provided by Bank of Singapore Limited to residents of Malaysia are provided solely on an offshore basis from outside Malaysia, either as a result of "reverse enquiry" on the part of the Malaysian residents or where Bank of Singapore Limited has been retained outside Malaysia to provide such services. As an integral part of the provision of such services from outside Malaysia, Bank of Singapore Limited may from time to time make available to such residents documents and information making reference to capital markets products (for example, in connection with the provision of fund management or investment advisory services outside of Malaysia). Nothing in such documents or information is intended to be construed as or constitute the making available of, or an offer or invitation to subscribe for or purchase any such capital markets product. Myanmar: The provision of any products and services by Bank of Singapore Limited shall be solely on an offshore basis. You shall ensure that you have and will continue to be fully compliant with all applicable laws in Myanmar when entering into discussion or contracts with Bank of Singapore Limited. Oman: This document does not constitute a public offer of investment, securities or financial services in the Sultanate of Oman, as contemplated by the Commercial Companies Law of Oman (Royal Decree No. 18/2019), Banking Law of Oman (Royal Decree No. 114/2000) or the Capital Market Law of Oman (Royal Decree No. 80/1998) and the Executive Regulations of the Capital Market Law (Ministerial Decision No. 1/2009) or an offer to sell or the solicitation of any offer to buy non-Omani investment products, securities or financial services and products in the Sultanate of Oman. This document is strictly private and confidential. It is being provided to a limited number of sophisticated investors solely to enable them to decide whether or not to make an offer to invest in financial products mentioned in this document, outside of the Sultanate of Oman, upon the terms and subject to the restrictions set out herein and may not be reproduced or used for any other purpose or provided to any person other than the original recipient. Additionally, this document is not intended to lead to the making of any contract within the territory or under the laws of the Sultanate of Oman. The Capital Market Authority of Oman and the Central Bank of Oman take no responsibility for the accuracy of the statements and information contained in this document or for the performance of the financial products mentioned in this document nor shall they have any liability to any person for damage or loss resulting from reliance on any statement or information contained herein Russia: The investment products mentioned in this document have not been registered with or approved by the local regulator of any country and are not publicly distributed in Singapore or elsewhere. This document does not constitute or form part of an offer or invitation to the public in any country to subscribe for the products referred to herein. Saudi Arabia: The Bank has not received authorization or licensing from the Saudi Arabian Monetary Agency or any other governmental authority in the Kingdom of Saudi Arabia to carry on banking business within the Kingdom of Saudi Arabia and the Bank does not hold itself out as carrying on, and does not carry on banking business. South Korea: The document does not constitute an offer, solicitation or investment advertisement to trade in the investment product referred to in the document. The Philippines: The information contained in this document is not intended to constitute a public offering of securities under the Securities Regulation Code of the Philippines. Dubai International Financial Center (DIFC): Bank of Singapore Limited has a branch registered in the Dubai International Financial Centre ("DIFC") which is regulated by the Dubai Financial Services Authority ("DFSA"). Bank of Singapore Limited (DIFC Branch) is not a financial institution licensed in the United Arab Emirates outside of the DIFC and does not undertake banking or financial activities in the United Arab Emirates nor is it licensed to do so outside of the DIFC. This material is provided for information purposes only and it is general information not specific in any way to any particular investor, investor type, strategy, investment need or other financial circumstance. As such this information is not financial advice or a financial promotion, nor is it intended to influence an investor's decision to invest. It is not to be construed as an offer to buy or sell or solicitation of an offer to buy or sell any financial instruments or to participate in any particular trading strategy in any jurisdiction. The material is only intended for persons who fulfill the criteria to be classified as "Professional Clients" as defined under the DFSA rules and should not be reviewed, received, provided to or relied upon by any other person. United Arab Emirates (U.A.E): The information contained herein is exclusively addressed to the recipient. The offering of certain products in this document has not been and will not be registered with the Central Bank of United Arab Emirates or Securities & Commodities Authority in the United Arab Emirates. Any products in this document that are being offered or sold do not constitute a public offering or distribution of securities under the applicable laws and regulations of the United Arab Emirates. This document is not intended for circulation or distribution in or into the UAE, other than to persons in the UAE to whom such circulation or distribution is permitted by, or is exempt from the requirements of, the applicable laws and regulations of the United Arab Emirates. The distribution of the information contained herein by the recipient is prohibited. Where applicable, this document relates to securities which are listed outside of the Abu Dhabi Securities Exchange and the Dubai Financial Market. The Bank of Singapore Limited is not authorized to provide investment research regarding securities listed on the exchanges of the United Arab Emirates which are outside of the DIFC. United Kingdom: In the United Kingdom, this document is being made available only to the person or the entity to whom it is directed being persons to whom it may lawfully be directed under applicable laws and regulations of the United Kingdom (such persons are hereinafter referred to as 'relevant persons'). Accordingly, this document is communicated only to relevant persons. Persons who are not relevant persons must not act on or rely on this document or any of its contents. Any investment or investment activity to which this document relates is available only to relevant persons and will be engaged in only with relevant persons. Relevant persons in receipt of this document must not distribute, publish, reproduce, or disclose this document (in whole or in part) to any person who is not a relevant person. United States of America: This product may not be sold or offered within the United States or to U.S. persons.

In Hong Kong, Bank of Singapore Limited is a branch of Bank of Singapore Limited incorporated in Singapore with limited liability.
© 2020 Bank of Singapore Limited. All rights reserved.
Version: July 2020