Bank of Singapore presents
A Moderated Conversation with President Obama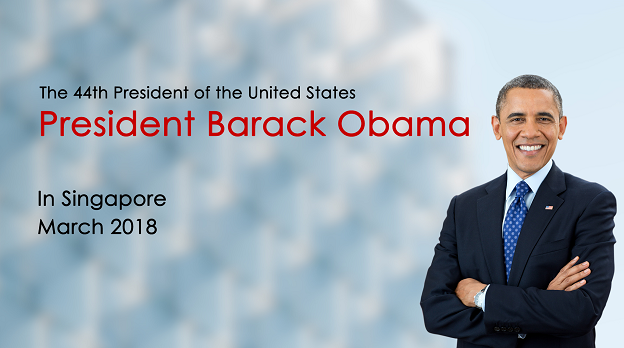 March 2018
By invitation only


A series: Perspectives That Matter
We seek to bring perspectives that matter to our clients, via a series of exclusively curated events and initiatives.
Leveraging our thought-leadership platforms, our clients have privileged access to the best global insights and minds of world-renowned experts - industry captains, Nobel laureates, diplomats and subject authorities.


A Moderated Conversation with President Obama
We are honoured to add another illustrious name to this series. The 44th President of the United States, Barack Obama - renowned statesman, world leader, and inspirational keynote speaker – will take centre stage at an exclusive event in Singapore.

Despite taking office at a moment of crisis and political obstruction, President Obama's leadership helped rescue the US economy, revitalise the American auto industry, reform the healthcare system to cover another twenty million Americans, and put the country on a firm course towards a clean energy future – all whilst overseeing the longest stretch of job creation in American history.
About our speaker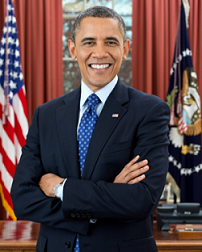 President Barack Obama
The 44th President of the United States

Few presidents have walked a more improbable path to the White House. Born in Hawaii to a mother from Kansas and a father from Kenya, Obama was raised with help from his grandparents, whose generosity of spirit reflected their Midwestern roots. The homespun values they instilled in him, paired with his innate sense of optimism, compelled Obama to devote his life to giving every child, regardless of his or her background, the same chance America gave him.
After working his way through college with the help of scholarships and student loans, Obama moved to Chicago, where he worked with a group of churches to help rebuild communities devastated by the closure of local steel plants. That experience honed his belief in the power of uniting ordinary people around a politics of purpose, in the hard work of citizenship, to bring about positive change. In law school, he became the first African-American president of the Harvard Law Review, then he returned to Illinois to teach constitutional law at the University of Chicago and begin a career in public service, winning seats in the Illinois State Senate and the United States Senate.
On November 4, 2008, Barack Obama was elected the 44th President of the United States, winning more votes than any candidate in history. He took office at a moment of crisis unlike any America had seen in decades – a nation at war, a planet in peril, the American Dream itself threatened by the worst economic calamity since the Great Depression. And yet, despite all manner of political obstruction, Obama's leadership helped rescue the economy, revitalise the American auto industry, reform the health care system to cover another twenty million Americans, and put the country on a firm course to a clean energy future – all while overseeing the longest stretch of job creation in American history. On the world stage, Obama's belief in America's indispensable leadership and strong, principled diplomacy helped wind down the wars in Iraq and Afghanistan, decimate al Qaeda and eliminate the world's most wanted terrorists, shut down Iran's nuclear weapons program, open up a new chapter with the people of Cuba, and unite humanity in coordinated action to combat a changing climate.
In times of great challenge and change, President Obama's leadership ushered in a stronger economy, a more equal society, a nation more secure at home and more respected around the world. The Obama years were ones in which more people not only began to see themselves in the changing face of America, but to see America the way he always has – as the only place on Earth where so many of our stories could even be possible.
Barack Obama and his wife, Michelle, are the proud parents of two daughters – Malia, 18, and Sasha, 15.

assets.adobedtm.com http://dpm.demdex.net http://ocbcbosdev.112.2o7.net http://fast.ocbc.demdex.net http://cm.everesttech.net http://sync-tm.everesttech.net *.tt.omtrdc.net smetrics.bankofsingapore.com *.everesttech.net fast.partnerID.demdex.hnet
Past esteemed guest speakers
David H. Petraeus
Chairman, KKR Global Institute
Over the past decade, General Petraeus was named one of America's 25 Best Leaders by the U.S. News and World Report, a runner-up for Time magazine's Person of the Year, the Daily Telegraph man of the year, a Time 100 selectee, and one of Foreign Policy magazine's top 100 public intellectuals. General Petraeus has received numerous U.S. military, State Department, NATO and United Nations medals and awards, including four Defence Distinguished Medals, the Bronze Star Medal for Valour, and the Combat Action Badge, and Master Parachutist Wings. He has also been decorated by 13 foreign countries.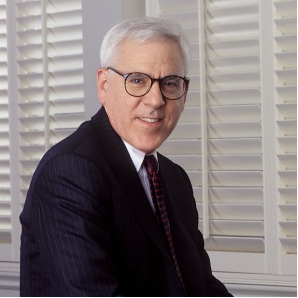 David M. Rubenstein
Co-Founder and Co-CEO, The Carlyle Group
David M. Rubenstein is a Co-Founder and Co-CEO of The Carlyle Group, one of the world's largest private equity firms. Mr Rubenstein co-founded the firm in 1987. Since then, Carlyle has grown into a firm managing approximately $170 billion from 35 offices around the world.

He also currently serves as chairman of the Kennedy Center for the Performing Arts, chairman of the Smithsonian Institution, chairman of the Brookings Institution, and President of the Economic Club of Washington, D.C. According to the Forbes ranking of the wealthiest people in America, Rubenstein has a net worth of $2.9 billion.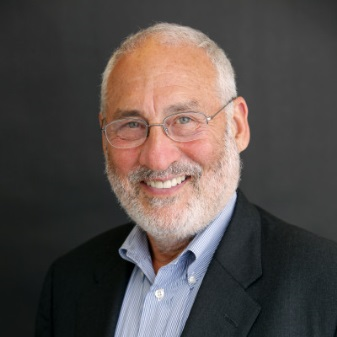 Joseph Eugene Stiglitz
World Bank Chief Economist
Joseph E. Stiglitz is an American economist and a professor at Columbia University. He is also the co-chair of the High-Level Expert Group on the Measurement of Economic Performance and Social Progress at the OECD, and the Chief Economist of the Roosevelt Institute. A recipient of the Nobel Memorial Prize in Economic Sciences (2001) and the John Bates Clark Medal (1979), he is a former senior vice president and chief economist of the World Bank and a former member and chairman of the (US president's) Council of Economic Advisers. In 2000, Stiglitz founded the Initiative for Policy Dialogue, a think tank on international development based at Columbia University. He has been a member of the Columbia faculty since 2001 and received that university's highest academic rank (university professor) in 2003. Based on academic citations, Stiglitz is the 4th most influential economist in the world today, and in 2011 he was named by Time magazine as one of the 100 most influential people in the world. Known for his pioneering work on asymmetric information, Stiglitz's work focuses on income distribution, asset risk management, corporate governance, and international trade. He is the author of numerous books, and several bestsellers. His most recent title is The Great Divide: Unequal Societies and What We Can Do About Them (2015).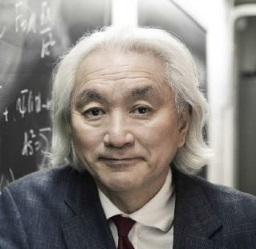 Michio Kaku
World Renowned Futurist
Dr Michio Kaku is a world renowned theoretical physicist and futurist. He is also a bestselling author, acclaimed public speaker, and populariser of science. He has appeared in many television programmes on BBC, the Discovery Channel, the History Channel, the Science Channel and a number of the network news channel. The author of numerous international bestsellers, including "Physics of the Future: How Science Will Shape Human Destiny and Our Daily Lives by the Year 2100", Michio Kaku presents revolutionary developments in medicine, computers, quantum physics, and space travel that will forever change our way of life and alter the course of civilization itself. Kaku writes regularly for major publications such as Time, Wall Street Journal, Discover Magazine, New Scientist Magazine, Astronomy and Wired. He has also hosted a CNBC series called The Edge: The Future of the Mind and had a cameo in the 2013 Brad Pitt blockbuster World War Z.
He also recently appeared on CNN International to discuss about America's plan to send human to Mars by 2030 and discussed key initiatives around the world that are leading the way to new and better energy sources that will lead to greater sustainability and energy independence.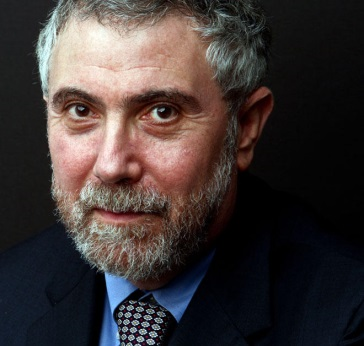 Paul Robin Krugman
Economist
Paul Robin Krugman is an American economist who is currently Distinguished Professor of Economics at the Graduate Centre of the City University of New York, and a columnist for The New York Times. In 2008, Krugman was awarded the Nobel Memorial Prize in Economic Sciences for his contributions to New Trade Theory and New Economic Geography. The Prize Committee cited Krugman's work explaining the patterns of international trade and the geographic distribution of economic activity, by examining the effects of economies of scale and of consumer preferences for diverse goods and services.
Krugman is the author or editor of 27 books, including scholarly works, textbooks, and books for a more general audience, and has published over 200 scholarly articles in professional journals and edited volumes. He has also written several hundred columns on economic and political issues for The New York Times, Fortune and Slate. A 2011 survey of economics professors named him their favourite living economist under the age of 60. As a commentator, Krugman has written on a wide range of economic issues including income distribution, taxation, macroeconomics, and international economics. Krugman considers himself a modern liberal, referring to his books, his blog on The New York Times, and his 2007 book The Conscience of a Liberal. His popular commentary has attracted widespread attention and comments, both positive and negative.