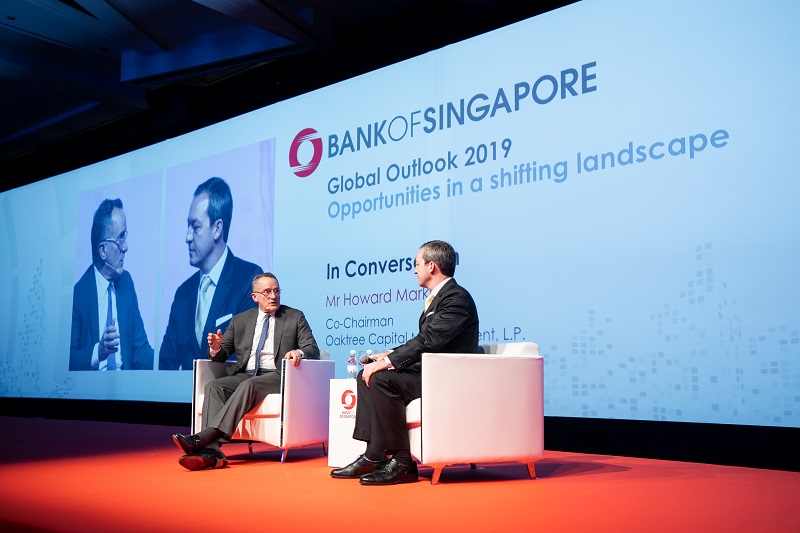 Event Highlights
On 14 January, the Bank brought together opinion leaders and topical experts to present their views on the global outlook in 2019. Held at the Singapore Raffles City Convention Centre for a 1,000-strong audience of clients, Global Outlook 2019 explored how investors could navigate a shifting landscape, tackle challenges and target opportunities to get value.
Dedicated to bringing clients the views and insights of experts from inside and outside of Bank of Singapore, the forum aimed to shed light on present-day, important subjects of interest – from the global economy, financial markets, investments, real estate and technology to analysis of macro themes that had political and market implications.
The twin themes of volatility and uncertainty were expected to persist in the New Year as the market headed deeper into the mature part of the economic cycle.
The Bank's specialists highlighted that 2019 would likely be dominated by moderating global growth and geopolitical risks. In their view, staying away from markets would not help investors meet their objectives over the long term. Instead, there would be a high opportunity cost to not being invested or underinvested; and that could compound heavily over time.
Overall, our experts believed that the 2019 market landscape would still be favourable – with no significant risk of recession. Investors should look for non-traditional assets to enhance portfolio diversification even as they stayed invested.
Breakfast forum presenter, Invesco's global research head, Timothy Bellman saw reason to add global commercial real estate to a portfolio of equities and bonds for benefits of diversification; relatively stable income; and inflation hedging.
One of China's most influential economists, David Li DaoKui – also Mansfield Freeman Chair Professor of Economics, Director of the Center for China in the World Economy (CCWE) at Tsinghua University's School of Economic – gave his perspective on China's economic and political landscape; Sino-American relations; and her rise as a technology powerhouse.
In Li's view, things were looking bullish. Even though the US-China Trade War could prove "tricky", Chinese leaders had no intention of a cold war. He predicted that China's economic growth would stay strong in the long term, fueled by huge domestic savings and innovation. He pointed to Chinese companies powered by emerging technologies such as Alibaba or Tencent.
US-China trade talks might not be resolved by the March deadline. However, a general framework could be reached. US' lack of a coherent strategy to tackle trade differences with China posed downside risks.
Howard Marks, one of the investing greats of this generation and Co-Chairman and Co-Founder of Oaktree Capital Management, was the keynote speaker at lunch andprovided astute insights into investor psychology. His advice is to resist the negative psychology of market fluctuations, and to look at markets impartially and intelligently.
As a wrap, theoretical physicist and futurist, Dr. Michio Kaku shared his predictions for the future and his take on long-term mega trends of artificial intelligence, robotics and … space.
Note: The speakers' views may not represent the Bank's views
Watch the Video Highlights
Photo Gallery