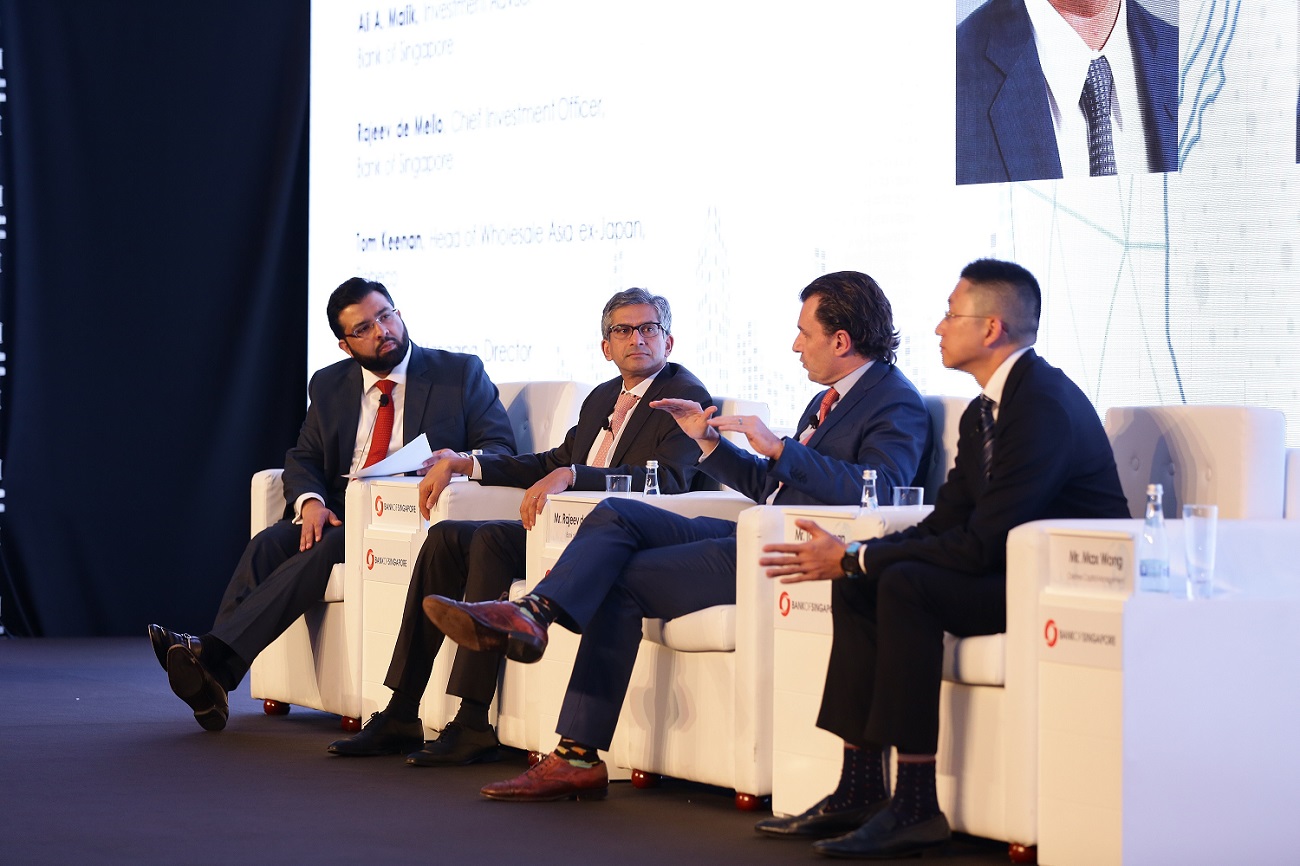 On 20 January 2019, the Bank hosted its annual Global Outlook – Dubai conference for 250 guests at Jumeirah Beach Hotel. The conference aimed to explore the 2019 economic landscape for investment opportunities, with experts from inside and outside of Bank of Singapore shedding light on present-day, key subjects of interest relating to the global economy, investments, technology and more.
As we steer into 2019, issues of uncertainty and volatility are expected to persist as we delve deeper into the mature part of the economic cycle.
The Bank's specialists highlighted that while 2019 would likely be dominated by moderating global growth and geopolitical risks, staying away from markets would not help investors meet their long term objectives. Instead, there would be a high opportunity cost to not being invested or underinvested; and that could compound heavily over time.
Overall, our experts believe that the 2019 market landscape will still be favourable – with no significant risk of recession. Investors should look for non-traditional assets to enhance portfolio diversification even as they stayed invested.
Tom Keenan of Robeco Asset Management explained the concept behind trends investing and how this is applicable to financial equities. According to Tom, technological, demographic and regulatory changes will drive secular growth in financial equities. He also identified the following three upcoming trends to look out for – Aging Finance, Digital Finance and Emerging Finance.
This was promptly followed by a riveting panel discussion joined by Max Wong of Oaktree Capital Management on "Investing in Alternative Assets", where he discussed how to identify patterns in market cycles, spot warning signs of boom and bust cycles and most importantly, strategies for investing in the current cycle.
The event concluded with keynote speaker Anand Subramanian, Director of Applications Strategy & Innovations, ECEMEA Oracle Corporate, as he provided fresh perspectives on the emergence of new technologies, the importance of back end data and building customised experiences for clients.
Through the lens of Anand, "data is the new oil and AI (artificial intelligence) is the engine driving the data economy". He showcased the changing lifestyles and the explosion of data (via social media and mobile applications) from a consumer perspective and connected it to the proliferation of data in the enterprise world via technologies like IoT (internet of things), block chain and AI. He explained in simple terms what each of these technologies delivers and their impact on how organisations work. The session concluded with some predictions for the future and how the audience can embrace technology in small but quick steps.
Note: The speakers' views as highlighted above may not be representative of the Bank's views. You will need to decide on your own as to whether or not the contents are suitable for you. When you are in doubt, please seek your own independent financial, legal, tax or other advice as you deem fit. Neither the Bank nor any of its officers accept any liability for any loss whatsoever arising out of or in connection with your use of the information in this article.