Event highlights
Bank of Singapore Global Outlook 2018, an exclusive conference of invited guests and speakers, kicked off on 8 January 2018 at the Raffles City Convention Centre in Singapore. Over 1,000 guests attended Global Outlook 2018, which brought together leading experts to discuss the economic and investment trends in the year ahead.
The speakers who shared their insights included IMD Business School Professor Emeritus Stephane Garelli, BlackRock Head of Income Investing Michael Fredericks and NextBlock Global CEO Alex Tapscott.Titled "Sailing on the Winds of Change", Global Outlook 2018 came as risk asset valuations became stretched after 2017's strong runs and central banks' gradual exit from loose monetary policies.Bank of Singapore Chief Executive Officer Bahren Shaari said, "We will navigate through this challenging environment by identifying the changing winds and adjusting our sails with practical investment strategies to capture those opportunities that may arise. Thus, the theme for our Global Outlook – "Sailing on the Winds of Change".Mr Shaari added that, while the Bank continues to grow amidst a private banking industry that's transforming due to technological innovations, Bank of Singapore will maintain its core value which is to put clients' interests first.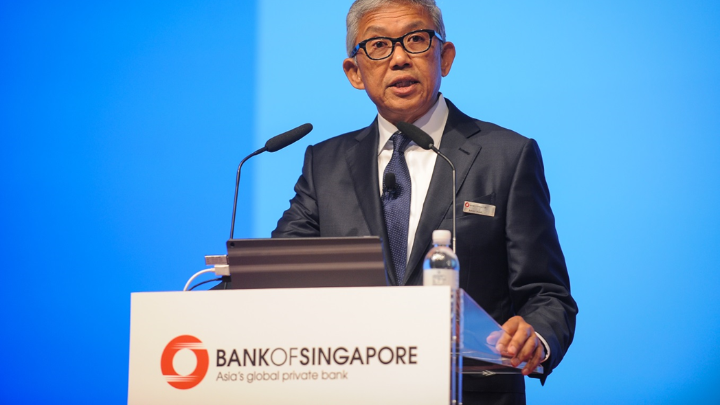 The in-depth presentations and panel discussions that followed captured the attention of the full-house audience.Professor Emeritus Stephane Garelli elaborated on a new competitiveness landscape, where winners need to be ambitious, resilient and able to quickly reinvent themselves. Bank of Singapore's Chief Economist Richard Jerram and Chief Investment Officer Johan Jooste noted that, while the markets may face challenges, the next recession is not yet in sight. Investors are anticipated to diversify income sources and invest out of over-valued sectors. Michael Fredericks from BlackRock, Goldman Sachs' Lead Portfolio Manager, Alison Lau, MSCI Head of China Research, Zhen Wei, and Bank of Singapore's Head of Bespoke Mandates, Dave Lam, sat together for a panel discussion.They exchanged views on diversification and risk management strategies for investors to stay constructive going forward. The use of artificial intelligence in portfolio management and China A-shares' integration with the global markets were also explored.Global Outlook 2018 has since taken off from Singapore for other cities, including Kuala Lumpur, Jakarta, Hong Kong, Bangkok, Beijing, Manila, Shanghai, Dubai, Kuching, Penang, Kota Kinabalu, Ningbo and Tokyo.